Are you wondering to get the list of best forearm tattoos for men? In this small guide, I will walk you through my collection of 10 tattoo designs that you can try on your inner and outer forearm
The list is made for those who are looking for unique, quick, and meaningful tattoo designs. Some of the designs are simple yet very attractive. Many people look for simple and small designs.
For those, looking for full-arm design, I have some ideas coming for you in this post. So, let's get started.
10 Best forearm tattoos for men (simple designs)
1. Simple and small compass forearm tattoo
The compass tattoo design on the forearm is the all-time favorite of men. The reason for its popularity is that it looks tough and very quick to design as compared to other time taking forearm tattoo designs. The compass gives you a touch of history and adventure. So, for those who are looking for a small and simple design, this compass tattoo forearm design is for them.
2. Simple inner arm men tattoo design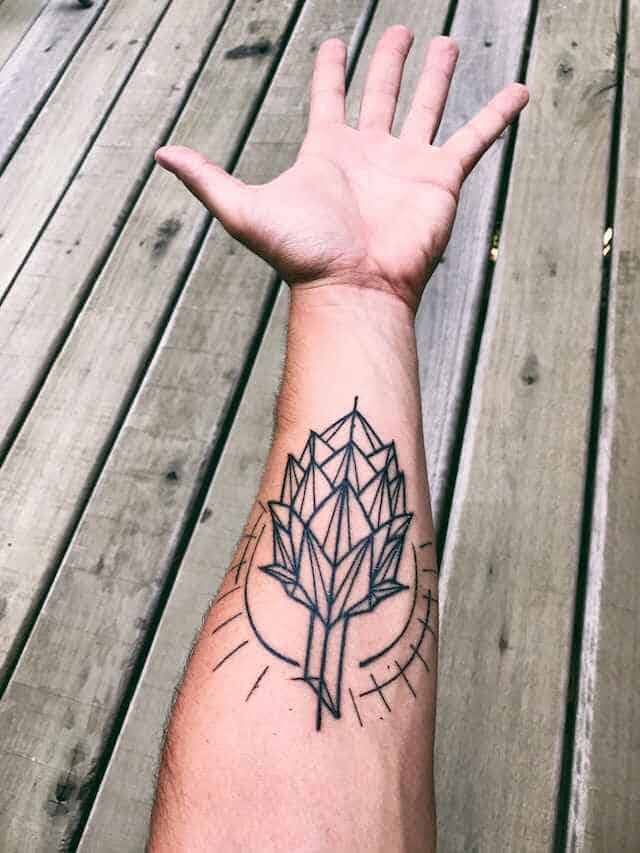 Also read: 5 Best mom dad tattoos ideas
Let me increase the size of the tattoo a bit compared to the first design on this list. This is another great forearm tattoo design that does not require heavy artwork and gets ready comparatively in lesser time. This is an inner forearm tattoo design that looks appealing to the eyes and attracts eyeballs.
3. Inner forearm tattoo design for men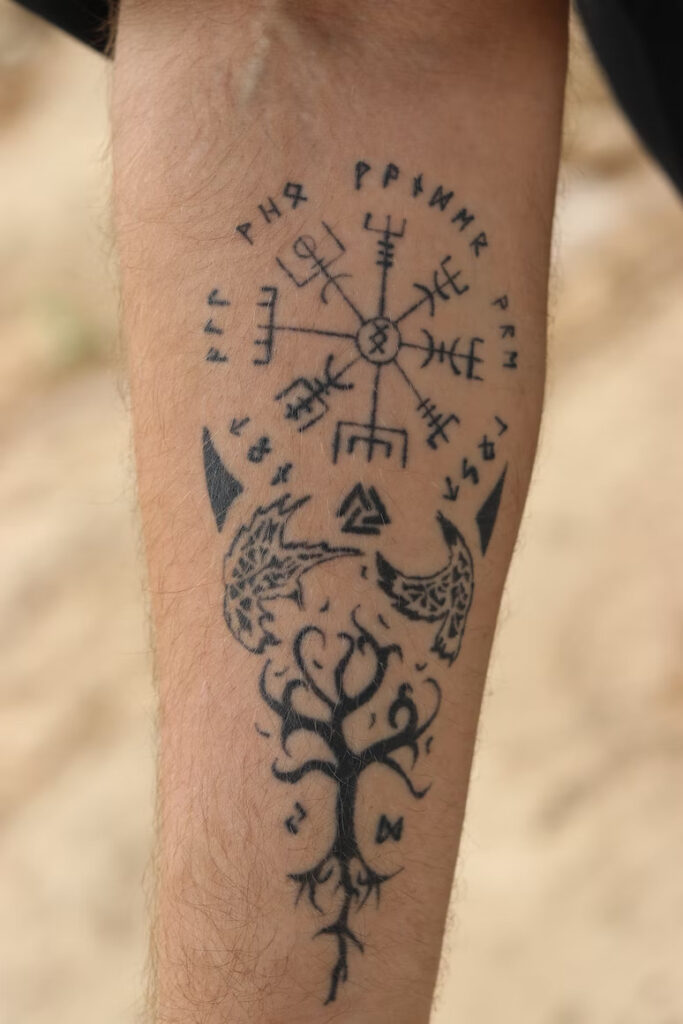 Let me add more suspense and small artwork to your tattoo design. The tattoo design gives you a touch of ancient script and art mixed with modern design. The size of the tattoo is decent enough to cover your inner arm.
4. Full outer arm tattoo design
If you are still not convinced with the size and looking for a tattoo design that covers your full arm, here is the answer for you. The above design extends all the way to your bicep from the wrist. The design makes you look tough, and strong and adds elements of power.
5. Aquatic life inspired forearm tattoo
Do you love aquatic life and want to demonstrate it through your design? Here is an idea that beautifully showcases your feeling and love for aquatic life. The tattoo design is medium size and fits best on your inner forearm. So, what are you waiting for? Get this design and show your true love for the marine world.
6. Direction arm tattoo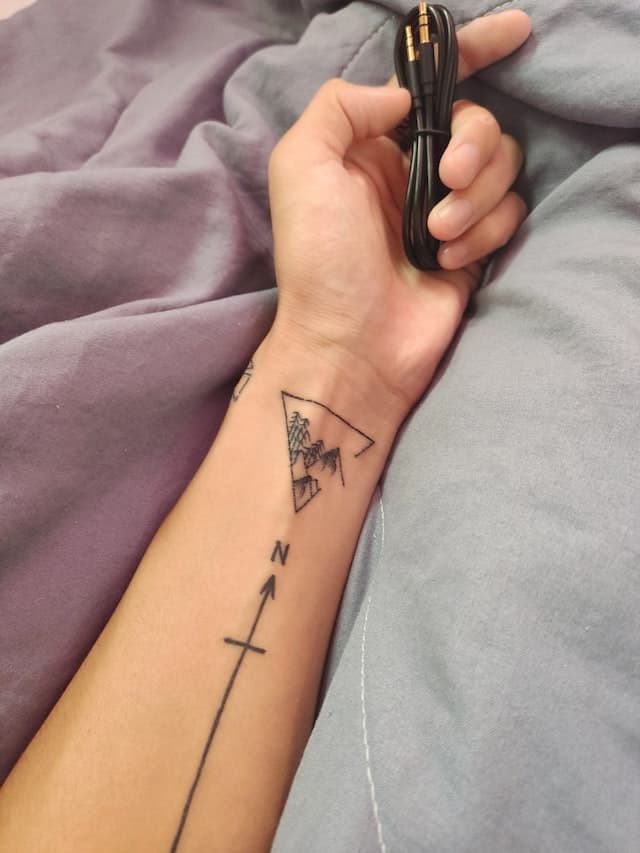 Next is another direction-related forearm tattoo for men. This time it is an arrow pointing to the letter "N" or the North direction. This is the simplest form of forearm tattoo I figured out while making this list. It has a small triangular artwork nicely portrayed with a north-pointing arrow under it.
7. Unique yet simple space forearm tattoo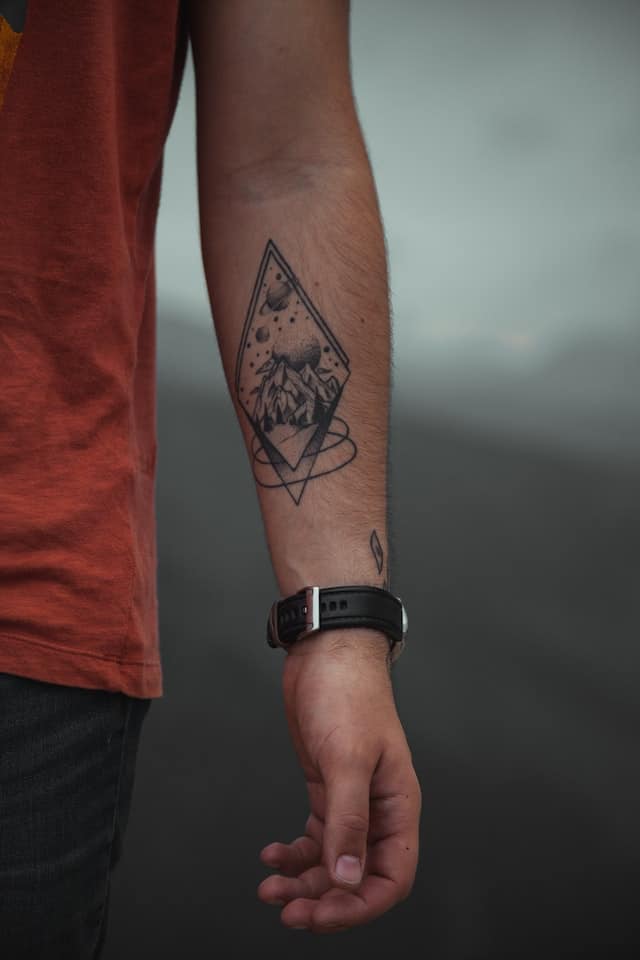 Are you a space science lover and want to depict it in your design? This tattoo design could be your best fit. The design is beautifully inked with planets around within a diamond-shaped outer lining. This is a mid-size forearm tattoo for space and science lovers.
8. Inner arm shark tattoo design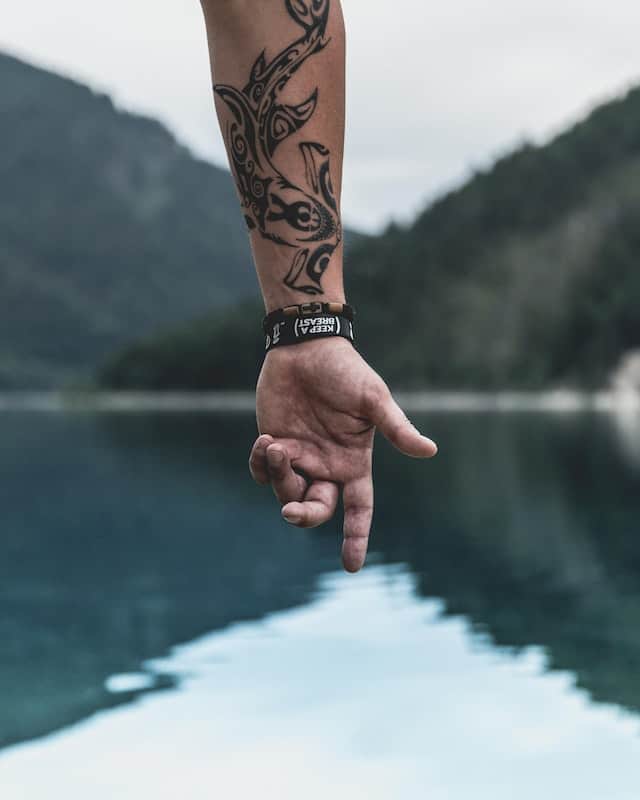 I have another tattoo design for aquatic world lovers. This time I have a hammerhead shark inked covering your entire forearm. I must say, the design is very beautifully crafted that adds charm to your forearm. Also, the small and simple artwork designed on the shark is just mindblowing.
9. Lion forearm tattoo for men
The list can not be complete without having a lion forearm tattoo for men. If you want to look more powerful and add toughness to your personality, you could consider this design. The sharp eyes of the lion are enough to grab eyeballs and add extra depth to your design.
10. Forearm tattoo with a bigger band
Last but not least, let me put a band forearm tattoo for you. If someone talking about getting a forearm tattoo, chances are they will have an armband tattoo on their list. Armband tattoos are very popular among tattoo lovers. Some people also prefer to get a tribal armband tattoo these days. I have listed all popular tribal armband tattoos in another post on this blog.
Final Thought:
I hope you got what you wanted and got some ideas for your next forearm tattoo design. I have tried my best to get all the popular forearm tattoos design for men. In case, you want more ideas, do let me know in the comment, and I will try to include more ideas for you. Till then keep exploring more tattoo designs below.