Have you purchased a beautiful brown shirt and confused it to pair with the right color of pants? Never mind! In this post, I will help you with the best picks to suit your favorite brown shirt.
There are many colors that can go well with brown shirts but some are more popular. For example, if you have a dark brown shirt you can contrast it with a light shade of pants.
Like, you can match light grey pants with your dark brown shirt. But if you do not have grey pants, black pants always go well with almost all colors including a brown shirt.
5 Best Brown Shirt Matching Pants Combination Ideas
1. Brown shirt with matching white pant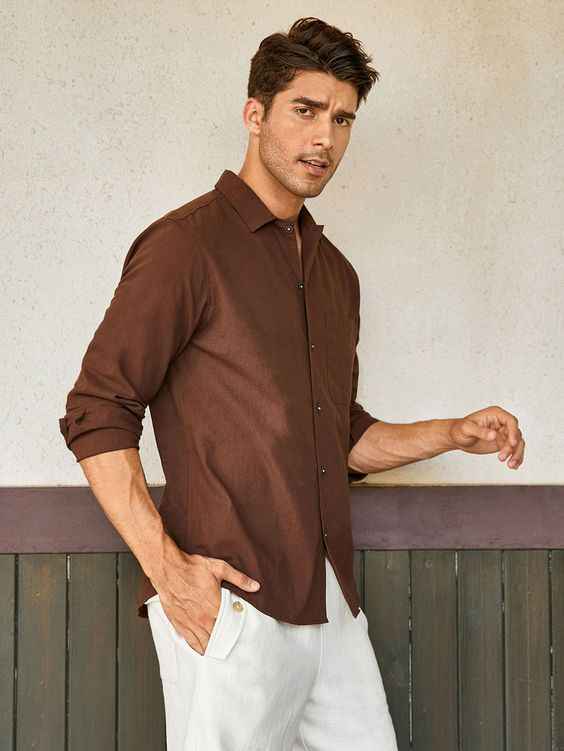 White is a universal color match that suits and goes well with all the colors including a brown shirt. If you are planning to wear a dark brown shirt, white matching pants could be the best fit for all occasions.
If you want to match for the casual occasion, rolling the sleeves of your shirt can bring further charm to your attire. For a relaxed look, you can unbutton your first two buttons, this will bring an element of coolness to your style.
2. Grey pant matching brown shirt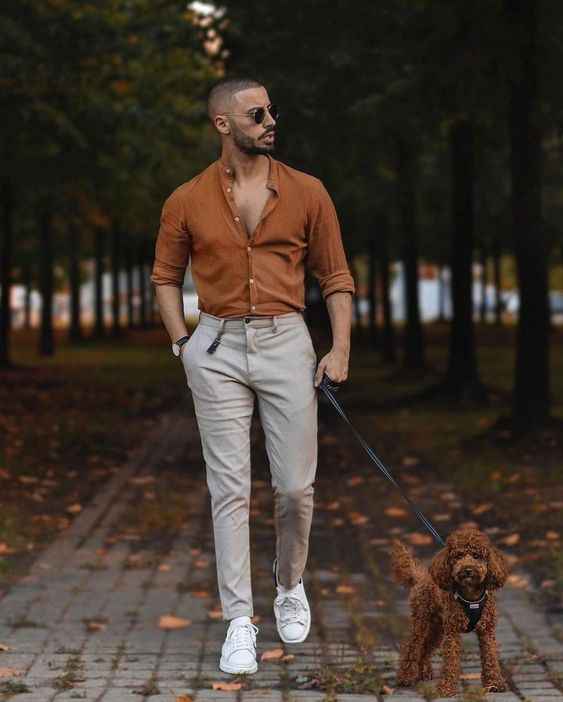 Next comes a grey casual cotton pant to match your brown shirt. A grey can match both the lighter and darker shades of brown.
You can try this match with a white sneaker. These days sneakers are very much in trend, so this color match is the best to match if you are a sneaker lover.
For a relaxed touch, you can try rolling up your sleeve. A black leather watch or a smartwatch can go well with this combo.
3. Black shorts with a brown shirt
Next comes another beautiful match, this time a pair of black pants for your brown shirt. One is shorts for casual occasions and the second one is the black cotton pants for all purposes.
A pair of black shorts with white sneakers look very stylish with a casual brown shirt. A copper color metal watch can bring further beauty to your style.
Also Read: 5 Best grey pants black shirt and white shirt combination ideas
4. Black cotton pants brown shirt combination
A dark or light brown shirt also looks good in black color. Actually, black and white are the two most popular colors that can match all other colors. So, do not get confused about matching a brown shirt if you already have nice black cotton pants in your wardrobe.
5. Brown shirt brown pant combination
Here is a brown-brown match if you are bored of trying all other previous color matches. Yes, a brown shirt not only matches well but also looks very stylish with brown pants. Based on your mood and occasion, you can style it with a sneaker or black casual shoes.
6. Blue jeans matching brown casual shirt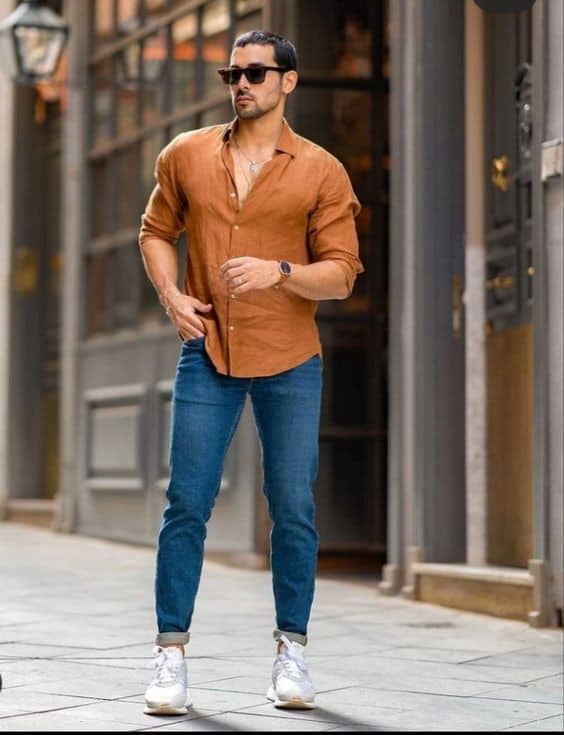 The list can not be complete without having jeans on the list. Blue jeans are the most popular color match that goes well with all other colors. A casual brown shirt can best match stylish blue jeans paired with white sneakers
Also read: 6 Best blue jeans matching shirt combination ideas 
Brown shirt matching pants guide
Matching with neutral color: Brown in itself a neutral color and if you match it neutral it will be a right match. For example, you can match it with neutrals like beige, khaki, or light gray pants for a relaxed and earthy look. The match is a perfect match for a casual or semi-formal occasion.
Matching with contrasting colors: As already mentioned at the start of this article, contrasting colors are always a great idea. The drak-light combo is an all-purpose match for any occasion.
Pairing it with jeans: The match can not be complete without having jeans on the list. Jeans are another best casual match or daily purpose use. Brown short with blue jeans bring a strong appearance and looks very stylish at the same time.
Matching with patterned pants: Patterned pant including plaid, houndstooth, or pinstripes is another great idea to match with a brown shirt. This match depends on the pattern and shades of your brown shirt.
Olive or dark green pants: Last but not least, olive green pant is another great idea to match a brown colored shirt. This is another unique match if you are bored with all other common colors. The green color suits your mood as it relates to green nature.