Let me introduce myself before I start talking about my weight loss story, Indian diet plan, and some useful weight loss tips.
My name is Anubhav Kumar & currently staying in Bangalore, India — Entrepreneur at heart & IT graduate by qualification.
Being an entrepreneur, I know what motivation & struggles mean in one's life.
Many people ask me, "How do you keep yourself so motivated after three business failures in series? ".
Now, when people see my new body transformation, they keep asking the same question about my motivation.
If you ask me, I think, these business failures & struggles for food & shelter in my life have injected my heart & thoughts with loads of inspiration in me.
The same motivation I applied when I planned to lose my soaring weight.
Losing weight is not easy at all. It requires a lot of things to do & plan. The most important things are; self-control, discipline, dedication & a working strategy.
I will talk about all these things in detail soon. So, let me share my fat to fit transformation journey with you all. Maybe, you would get some motivation this way.
My weight loss Indian story begins: Early days
It all started, when one fine day I was walking casually with my sister in a park. She was on her evening walk but not me.
I was there for a time pass as I was feeling bored sitting in my room. While we were walking, she told me about a recent video that she saw on youtube.
The story was about a lady in her fifties & she went for a full-body medical checkup. After her medical report, the doctor admired her for her healthy kidney and liver.
The doctor complimented her saying, "Your liver & kidney are as young as of a kid's".
This very line by that doctor gave me a strong volt of inspiration deep in my nerves as I myself have a fatty liver & had suffered from kidney stones recently.
The important thing to note here is, I am still 30 years old. That very day, I decided, I am gonna work on myself & get prepared for a healthy life.
Thanks, to my sister & that lady on Youtube. Someone rightly said, "There is a woman behind every successful man". And in my case, there were two 🙂.
My favorite motivational book for my weight loss success: Best book to read in your weight loss journey
Life before making my weight loss story
I was 84 Kilograms by 4 August 2019 and was looking for a way to work on this. Two options were there my way back then, join the gym or balanced dieting.
I had opted for later because I had already joined Gym many times since my school-days. But, I joined it only to leave the very next month or before.
Learned about diet and nutrition
I went with my dieting decision. I had never gone dieting in my entire life. So, I thought to look for guidance online.
I came across this mobile app called "HealthifyMe" which was shining on the play store with good star ratings and downloaded it to count my daily calorie intake and was not much aware of calories, carbs, fat, etc.
I taught myself about these nutrients only after downloading that app & after continuous research online.
I personally want to say a big THANK YOU to the HealthifyMe team for such a useful app on the internet. Keep spreading smiles, keep collecting blessings from your growing number of happy users.

Anubhav Kumar
The next target was to do some workouts as I was the laziest person in my home. Most of the time in bed with a laptop, mobile, internet, youtube & social media, munching chips & other fried snacks.
My father & brothers used to scold me a lot. I was so lazy that I hardly dare to move out of my bed to even drink water.
I resisted drinking water because I had to go to pee every time I drink. Now, you can imagine how lazy I was & the reason for my soaring weight. 🙁 🙁
Many even used to tease me on my puffed tummy. Used to call me, "father of two kids ". Even though I am still unmarried.
My favorite weight loss drink: Benefits of green tea in weight loss – My review
My weight loss journey with Indian food and simple workouts
Let me come to the point. So, I made a diet plan & started tracking my daily calorie intake on the app.
Leaving my bed was the most difficult task for me to do. But I made my mind to go out for a brisk walk and downloaded another app to track my daily steps.
I always suggest people make short-term goals first and go little by little. I had to lose around 22kgs in total.
So, made a decision to break my fat into two phases. The first goal was losing 10KGs with at least daily 8k to 10k steps of walking.
So, I went about it. I started tracking my daily calorie intake in the app. I was eating around 1400 cal per day.
Slowly, I reduced it to 1100 cal with low carbs in my meal. I reduced my daily intake of 8 rotis to 2 & filled the gap with more veggies and weight-loss-friendly food like oats.
I focused more on eating low carbs' food. Mushroom, Bell Peppers, Broccoli, Cauliflower, Cabbage, Green Beans, Soybeans Chunks, Papaya, etc became my best food friends. I worked successfully on my daily weight loss routine.
Walking for weight loss success: Fat to fit transformation workout
I started waking up a little early in the morning around 5 AM, started drinking lukewarm water with lemon, and then brisk walk.
Initially, it was difficult for me to walk even 5000 steps but kept doing.
I know one simple fact, if you are able to burn those extra calories that you ate throughout your day, any workout is good to go with.
This is the reason I decided to lose weight by walking
Brisk walking for weight loss – My style
Slowly, with the right determination, attitude, hunger for success, I was able to increase from 5000 steps to 15k a day to 20K+ sometime.
Now, I walk 6KM+ in the morning and 6 KM+ in the evening. Total 12+ KM a day. Sometimes 14 KM or more.
My distance actually depends upon the type of music draining deep into my ears. HAHAHA 🙂
Here is my weight loss progress pic I have posted on Instagram during my weight loss journey.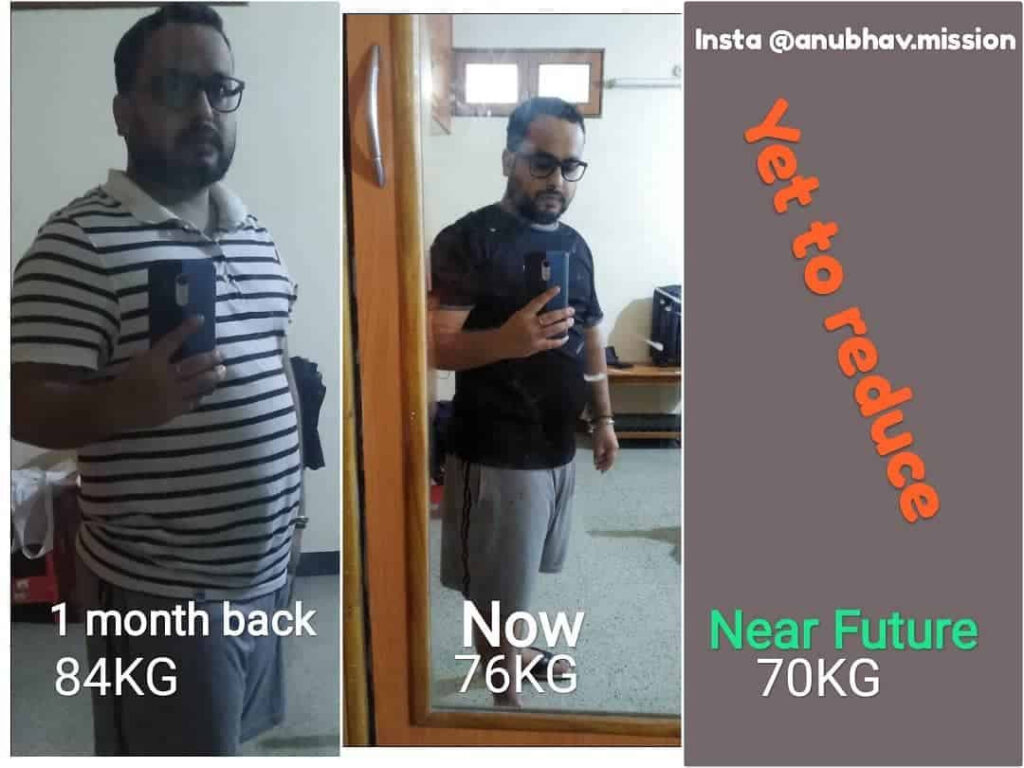 TIP: I recommend everyone, if you are trying to lose weight with walking, do not just walk but start brisk (more powerfully) walking. Sweating is very important if you want your workout to show you the results effectively.
Try these effective and easy workouts to lose weight fast: Workouts beneficial for weight loss
Can I lose weight by walking 30 minutes every day?
Many people ask me this question, "can you lose weight by walking an hour a day or 30 minutes a day?".
My answer to this question is, YES, you can certainly lose weight walking half an hour or an hour a day by walking.
But, the most important thing to note down here is that you should always eat within your calorie budget and make the right diet plan.
It is not like, you keep eating beyond your calorie budget, and walking alone gonna help you burn those extra calories you ate.
There is a simple equation, what has gone IN has to come OUT for balance dieting. And, the same applies to your diet and workout.
You put IN calories by eating food and you need to take out calories by workouts. Let it be your daily brisk walking or any other workouts.
You might be looking for inspirations like walking for weight loss success stories.
But, my own success story is enough to prove that if you are eating within your calorie budget and brisk walking daily, then you will see results on time for sure.
Weight loss with sleeping
I must have to admit this, your sleep can make all the difference in your weight loss progress. The best thing I did in my life that I learned how to sleep on time and lose weight in auto-pilot mode.
Sleeping is an important factor for an improved metabolism which can help you attain your weight loss goal.
Sleeping also helps you digest your food properly and charge your body and mind with new energy the next day. With this new energy, you can work out with more power and take full advantage of your diet.
Sleeping on time has another advantage. You avoid late-night snacking and overdosing yourself with unwanted calories if you sleep early.
So, as a takeaway please take care of your sleep and have it enough so that your weight loss works for you.
Write your fat to fit transformation weight loss success story
Here are some important points you must focus on in order to lose weight successfully and make yourself ready for your fat to fit transformation story.
1. Self-Control:
Self-Control is crucial as I said before. Actually, you have to go through many changes in your habits.
Changing habits takes time & not easy actually when it comes to leave unhealthy food & a poor lifestyle & switch to a healthier one.
Controlling eating junk food lust needs more energy & control on yourself.
I remember it was the festival of Rakshabandhan & I was in the mid of my journey when my sister prepared lots of mouth-watering dishes including sweets, fried snacks, chocolates, etc. These were my favorite buddies.
My heart was shouting loud to put Laddu (a sweet) into my mouth straight to my tummy.
But, I controlled myself & just had half a pinch of it in the name of the festival, requested my sister to remove fried snacks & sweets from my plate.
I controlled myself successfully that day and slowly learned to do this further. I worked on my craving for junk greatly & started saying no to junk foods.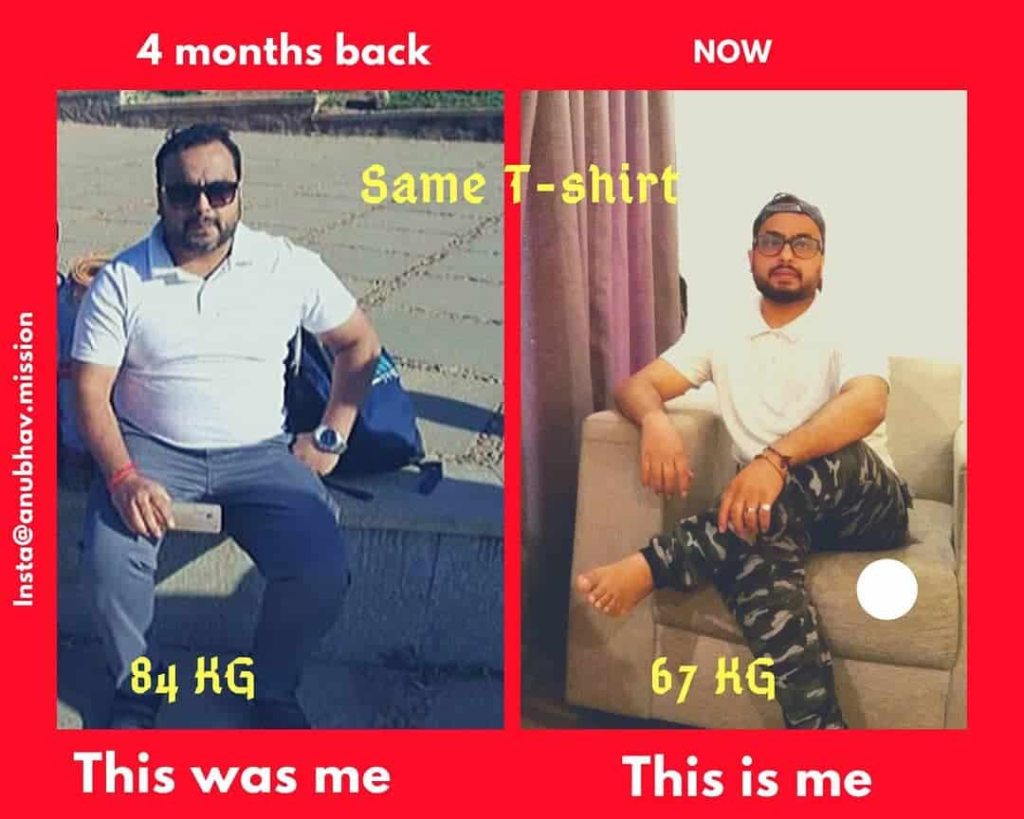 I keep sharing my tips, diet plan, and lots of motivations for a successful weight loss through my Instagram account. I love writing my own weight loss quotes and share on social media. Check my Instagram account here and never lose your motivation for your mission to fitness.
2. Discipline:
Discipline is another important thing that needs to be maintained throughout your journey.
I was very particular about foods I was eating, waking up early in the morning, saying no to junk foods, tracking calories on daily basis, tracking my total steps every day, going for a brisk walk daily, drinking at least 10 glasses of water without fail, etc throughout my weight loss journey.
You will find all the important weight loss tips I curated for you: Best tips to lose weight fast & easy: Find how in 7 steps
3. Dedication & motivation:
Dedication & motivation are the only things that will keep you energetic throughout your journey.
If this is not in place, chances are, you would leave your mission halfway.
And, this is why I give so much importance to motivation whether it is business, job, studies, exams, losing weight, or anything in life.
A must-read practical guide if you are losing hope by any chance: Weight loss motivation – Practical guide
With the help of discipline, self-control, dedication & motivation not only I was able to achieve my goals but received lots of words of appreciation from people and other influencers.
My weight loss journey helped me be featured in an international magazine GQ and recently got featured in another Asian magazine, DesiBlitz and Times of India.
My weight loss was also praised by The Secret: Law of attraction by Rhonda Byrne, author, and creator, and Executive Producer of the film The Secret, through their social media handles and websites.
Below is "The Secret" Instagram post about my weight loss journey.
My weight loss success favorite quotes
I made many weight loss quotes for myself. And, my favorite one is "Lose fat, Not Hope", which I say to others as well to repeat when in their weight loss journeys.
I keep sharing my favorite quotes through social media like on my Instagram.
For me, books are the best motivators & gurus in life. I always prefer reading books, let it be any topic.
Self-help books are my favorite & are the best source for your self-inspiration. One who is self-motivated never gets demotivated.
Here is the list of my own weight loss quotes I use to say to myself to keep my weight loss journey going: Read my inspiring weight loss quotes
This is why I give so much importance to books and recommend everyone. I read this book (See this article) during my weight loss journey & highly recommend everyone.
I know one thing, motivating others when on the same mission works best for your own motivation.
But, you have to be very particular about your mission before motivating others & yourself. You can not motivate others with Zero results.
And, this is why I planned to motivate other online & created a new Instagram (@anubhav.mission) where I try to motivate myself by supporting others in their journeys.
I receive lots of messages of appreciation, which makes me do even more than I am doing.
So remember, if you want to keep your motivation high in the long run then motivate others in their journeys.
Suggested article for you: This is what you can gift to yourself in your fitness journey.
My weight loss success with Indian diet plan
I try to maintain a healthy diet & focus on low calories high-volume food items. I wake up early in the morning, drink Lukewarm lemon water, and then go for a brisk walk at least 6 KM.
For breakfast, I mostly eat poha (Flatten rice or vermicelli or semolina ) with half a cup of milk tea (sugarless).
Though milk tea is not recommended I still prefer to drink it sugarless. I controlled the amount from 4 cups in a day to 1 cup and that too without sugar.
In lunch, I stick to 2 rotis (bread) or brown rice with low cal veggies like cauliflower, cabbage, mushroom, bell peppers, etc with 1 bowl of toor dal (split pigeon peas).
Find the best Indian diet plan I made for you here: Indian diet plan for weight loss – Plan it today
In evening snacks I mostly eat sprouts salad with puffed rice with half a cup of milk tea (sugarless).
Sometimes, I drink black coffee as well. Before, going for an evening brisk walk I drink green tea to help increase my metabolism.
At night, mostly eat oats with veggies with half a glass of turmeric milk. Total calories per day around 1100 to 1200.
Suggested article for you: Corn Daliya Khichdi – Veg diet for weight loss
How to lose weight in a week or months – My weight loss story is an example
Healthy eating, drinking 10 glasses of water, workout, motivation & new good habits worked like charm to me.
I was able to reduce around 10 Kg in about 2 months. If you calculate on a weekly basis then I lost around 1.2 kgs in a week. And, 5 kgs in a month.
The water helped me shine my skin, pimples vanished & I look fairer than before. My kidney stone gone with a daily intake of water. I learned, how to have self-control & its importance.
Most importantly, I made new friends online & offline on the journey.
I feel happy when my friends & family see me & their first reaction is "WOW" and then "HOW". Mouth, round open for some time. HAHAHA!!
This will help you guide if you are starting new:How to lose weight in a week at home – A beginner guide
Weight loss success with my ebook, WILLINGNESS METER
I have struggled to lose weight for 8 years. Following the willingness meter that I have created for myself has helped me lose weight effortlessly.
Now I want to share it with you. Willingness Meter is an ebook for those struggling to achieve their short and long-term goals, let it be your weight loss goal or anything.
Read how this ebook can help you by clicking the button below.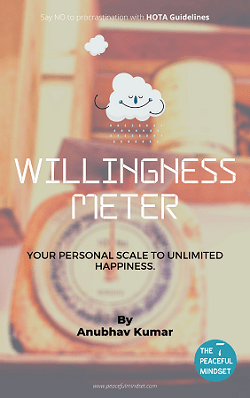 My weight loss story video on Youtube
In below Youtube video, I have explained how I achieved my weight loss goal just by brisk walking and dieting.
I am sure after watching my weight loss story, you will get inspired to lose weight.
Enjoy my weight loss motivational story
If you need any help then put your query in my video comment section on Youtube. You can subscribe to my channel here
Final thought on fat to fit transformation
I hope you liked reading my "weight loss Indian story" article. Losing weight has taught me a lot about life & people.
And with this small success, I am gonna help make others succeed. Keep eating healthy food in your calorie budget and keep walking for weight loss.
In case you want to track your weight loss progress, here is the calorie and weight loss calculator for you.
I wish everyone a healthy & happy life. The mission is only impossible when you leave it. Last but not least, LOSE FAT NOT HOPE. Take care!
!!Looking forward to your weight loss story!! Comment below if my journey helped you boost your motivation in any way.