Hi Guys! I am back with another article on ideas for green shirt matching pants. I love helping people to improve their lifestyles. Let it be fitness, dressing, or mental power.
The best green shirt outfit for men
People often get confused when they purchase a new shirt and lost in the flood of different color pants. So, in this post, I will talk particularly about what color of pants best match green shirts.
Do you know that if you have black or blue trouser, they can literally go with any color shirt? Maybe this is the reason people always love to keep at least blue and black trousers with them.
You can think of blue and black as the universal color that can best match any shirt including green. We will share the same in this article.
So, without further ado let me come straight to the point and help you with the best ideas on green shirt matching pant combinations.
Here you go…
5 Green shirt matching pants combination ideas: Green shirt outfit for men
1. Light green shirt with white pant for men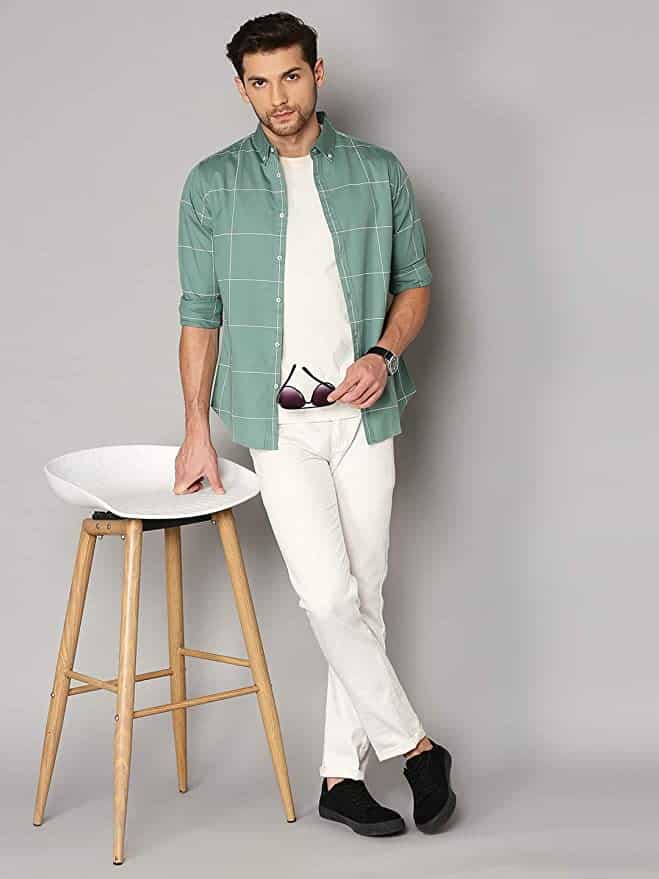 Yes, I thought to keep these white pants on top when it comes to matching a green shirt. You must have seen how popular this white pant and green shirt combination is.
Many celebrities love to wear this combination and if you will search on Google you will find a lot.
Tip: As per the trend, it is advisable to wear a light-dark combination. For example, if you are wearing a light green shirt wear a dark shade of pants.
Also, a decent-looking watch will be like the cherry on the cake. You must consider wearing a watch with this combo.
Read this one: Top 7 Fastrack watches under 2000 (men and women)
2. Light Green shirt with cream pant for men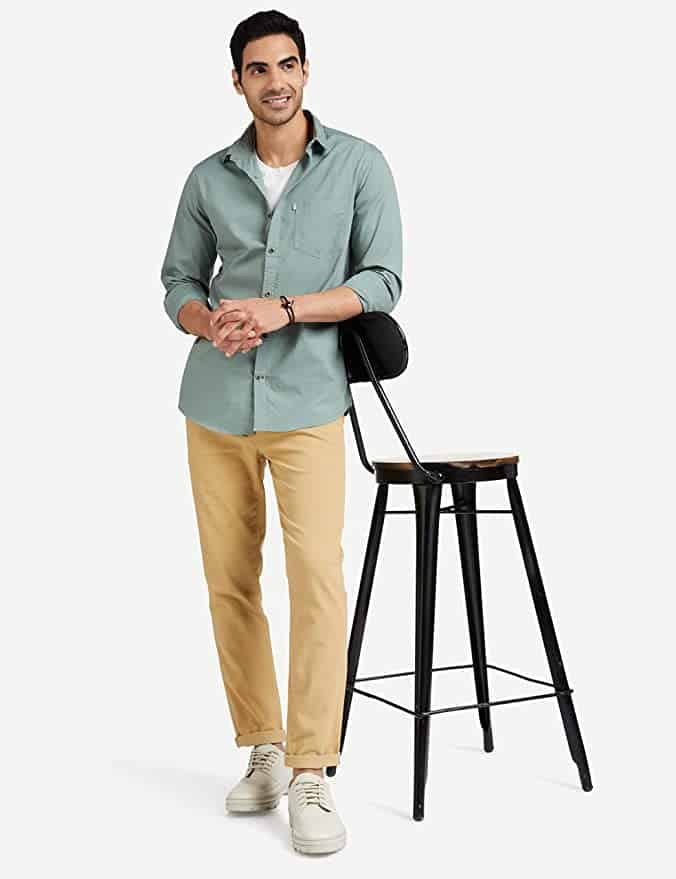 Second, comes a light green shirt with cream or khaki pants. It is another mind-blowing color that goes well with a green shirt.
This green-khaki combination put a lighter and calmer vibe in your personality and makes you look charming.
Also, a green shirt matches well with khaki color shorts or Capri.
I must say you need to have khaki or cream color pant in your wardrobe along with blue and black pants.
3. Olive green shirt with blue jeans or cotton pant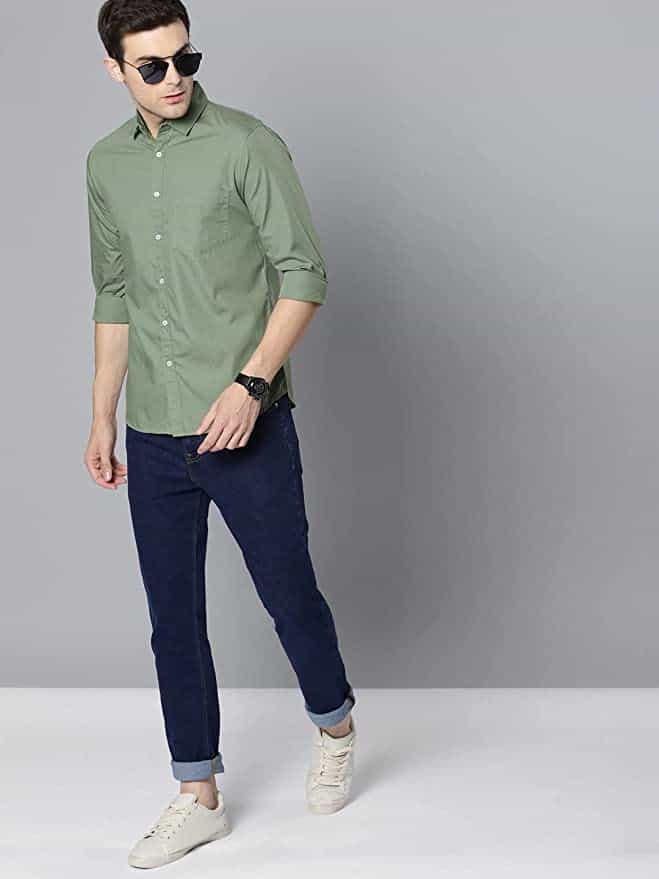 As I mentioned earlier blue is the universal color of pants that go well with almost any colored pants including green. So, if you have bought a green shirt it makes sense to wear it with blue denim.
The blue color and denim together make a great deal with your green shirt.
The blue denim will add a tough and cool appearance to your personality. It is good if you wear a white canvas with a green-blue denim combination.
4. Green shirt with light/dark green pant for men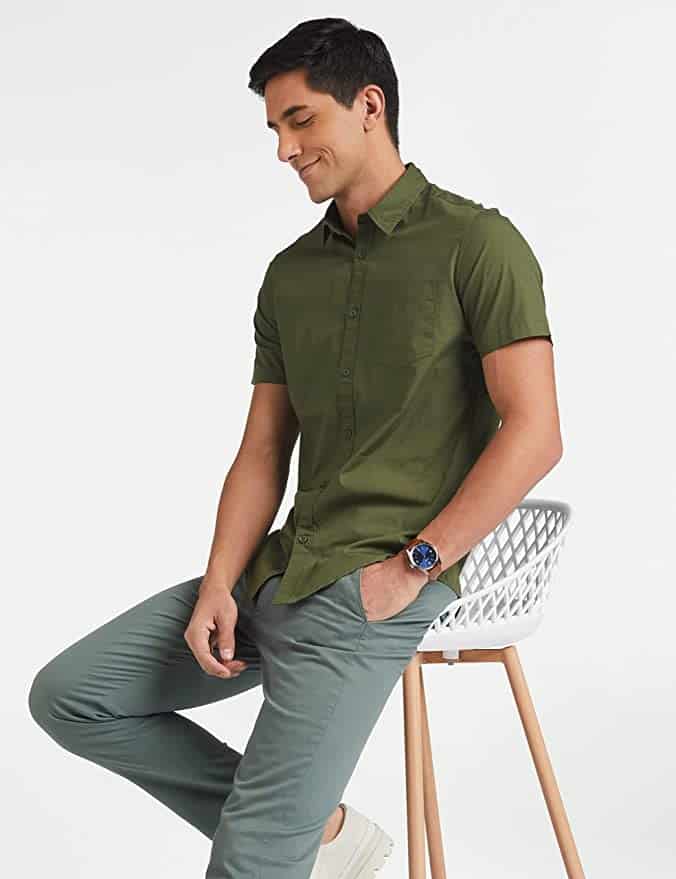 This is a less common combination but wearing a dark green shirt with a lighter shade of green pants looks out of the world.
Yes, if you are bored of wearing and hearing the same old green shirt combination, just go with this combo, you will love this.
If you are planning a vacation or going out for a date, you must try this dark-light green shade combination. People around you will love this and compliment your style.
Just make sure if you are wearing a dark green shirt wear a lighter shade of green pant and vice versa.
5. Dark green shirt with black pants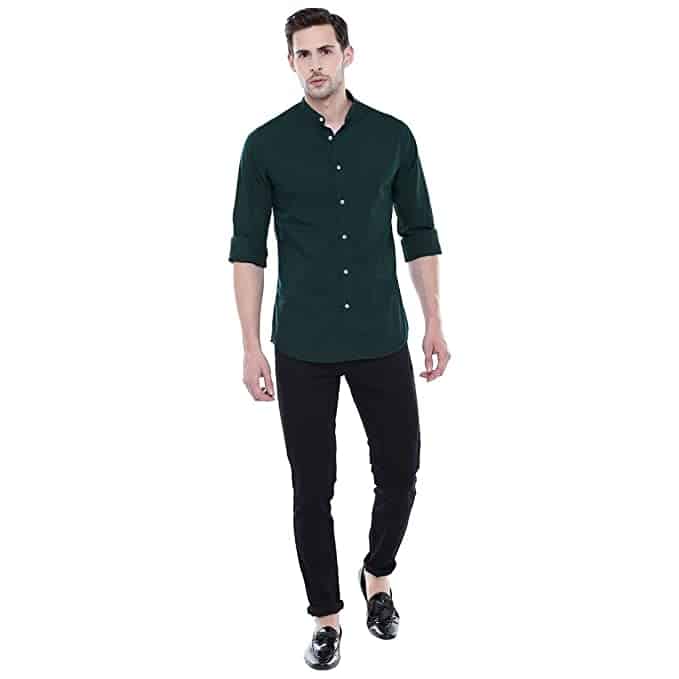 Black pant is another universal color that matches any colored shirt. This is why men love having black pants always with them.
It needs low maintenance compared to the lighter shade and does not consume your time thinking about matches.
You can either wear black cotton pants, black capris or black jeans with your green shirt.
FAQ on green shirt outfit for men
What pant goes well with the green shirt?

It is best to wear white pants with a green shirt. But it does not mean white is the only choice.
People can wear black pants or blue jeans, and these colors of pants match well with a green shirt.

What is the best green shirt outfit for men?

You can wear blue jeans with a green shirt and white casual shoes. And this is one of the popular green shirt outfits for men.

Does a green shirt go with grey pants?

Yes, dark grey pant and a green shirt is the best outfit match for men. But, it is advisable to wear a light green shirt with dark grey pants.
Conclusion
I hope you got some cool ideas on what color of pants matches best with a green shirt.
These 5 green shirt pant combinations shared in this article are the most liked ones. But still, people love to experiment with their dressing sense and style.
It's all about individual preference but it is always good to have a basic idea of color combination.
Otherwise, you will end up picking the wrong combination, and chances people around you will make fun of your choice.