I am back with another fashion guide on the top 10 best formal pant shirt combination ideas. It is easy to get a new formal shirt but it is a little difficult to match it properly with a pant.
Therefore, in this guide, I will help you with the list of the best formal shirt pant outfit ideas.
There are a lot of formal shirt patterns including stripes, plain, check, and more. In this article, we will see how to match them properly with your formal pants.
For a proper formal look, you can add more elements like formal ties, belts, and leather shoes. We will look at every detail here in this post.
So, without any delay, let me show you the list.
10 Best formal pant shirt combination ideas (modern stylish)
1. Stripe modern and stylish formal shirt pant combination
Let me start the list with the most stylish and modern formal shirt pattern. Strip formal shirts with formal cotton pants look so unique and appealing to the human eye.
The best part with stripe formal shirts is that you get different variations based on the width of the stripes. There are two forms of strips commonly available in formal shirts, namely vertical and horizontal.
Out of these two patterns, vertical stripes are the most common. Also, it is advisable to wear a vertical formal shirt if your height is short. You can get a white formal stripe shirt and match it with black or dark grey formal cotton pant.
Must read: 5 Best white pant matching Shirts
2. Modern check formal shirt outfit ideas
The second best formal shirt pant combination is from the check pattern. I mean, a formal check shirt combined with formal pants.
There are multiple patterns available in the check pattern based on the sizes. As per the new trends, people prefer to wear a small check pattern formal shirt with formal cotton pants.
If you are wearing a lighter shade of a formal shirt it is better to match it with a darker shade of formal pants. For example, if you are wearing a light bluish shade of a check pattern shirt, you can match it with dark blue or black pants for better contrast.
Must read: 5 Best white shirt matching pant (Jeans)
3. Plain formal shirt pant combination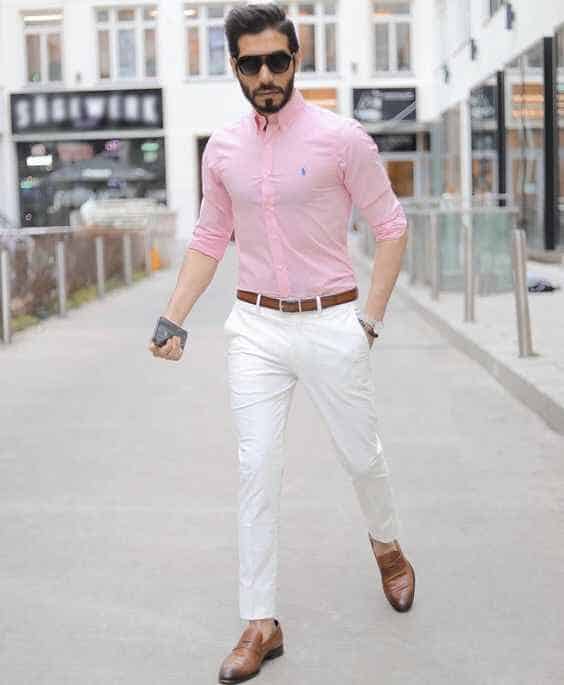 The third most widely popular formal shirt pant combination is a plain formal shirt with cotton formal pants. There are a lot of options if you go with a plain formal shirt.
You just need to focus on getting a best color and quality of a plain shirt. And, if you know how to combine rightly with formal pants, you are all set to go. For example, if you are wearing a light pink formal shirt you can match it with white formal pants.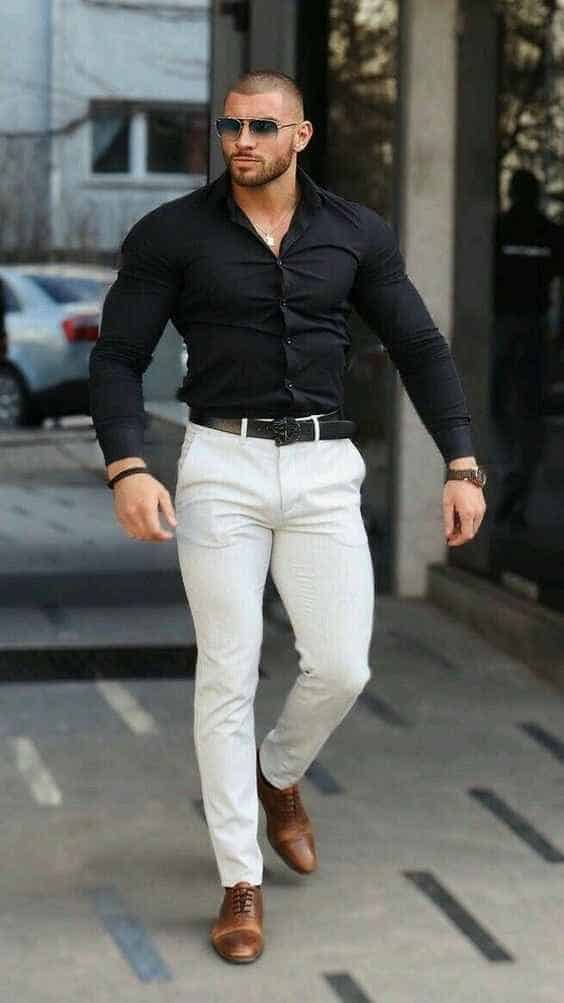 Combining a black plain formal shirt with light grey or white formal pant is the most popular color combination. So, if you are confused, just go with the black-white combination. You can also consider buying some plus size chinos.
4. Formal pant shirt with a tie outfit combination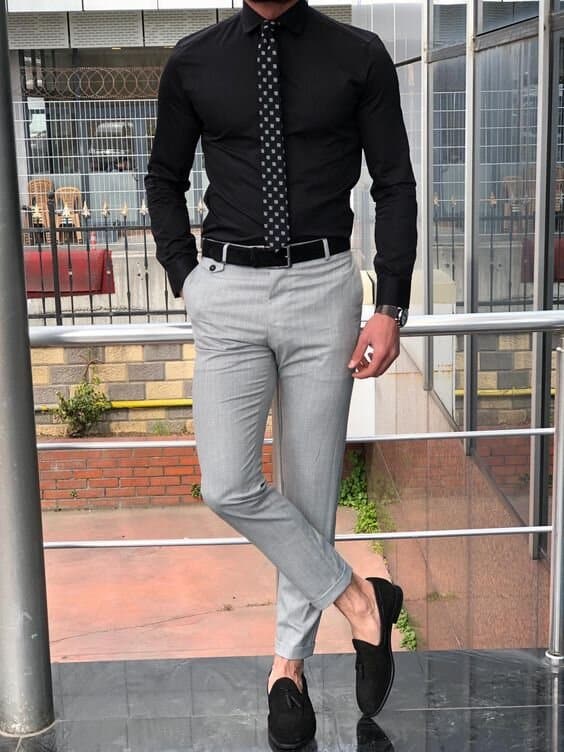 Now next comes a combination with a formal tie. Adding a tie to your formal attire can take your formal outfit to another level. It looks more sensible and is a perfect outfit for a professional occasion.
For example, you can match a formal light-shade of blue shirt with dark blue cotton pants and a dark blue tie. Just have a look at the below image for a better understanding and outfit combination idea.
Must read: 5 Best grey shirt matching pant combination ideas
5. White formal shirt pant outfit match
Last but not least, let me close the list with the most loved formal shirt pant color combination. When it comes to professional outfits, the first choice of many is getting a white formal shirt. The best part about a white formal shirt is that it is a universal match.
It means you can match your white shirt with any color of pants. For example, a white formal shirt is best matched with black formal pants.
And, the white-black color combination is the most common match. The second best match is with dark blue or grey pants. If you running out of time and combination ideas, just get a white formal shirt and match it with any color of formal pants. You are all set to go…
Below are more color combinations that you can consider trying. Have a look…
5 Best black shirt matching pant combination Ideas