Let me guide you with the list of the best black shirt matching pant in this post. The black shirt is very common and almost everyone loves wearing black attire.
But sometimes people run out of ideas to perfectly match their black shirts and t-shirts with pants.
Do not worry I have brought you the list of the top 5 best black shirt matching pant.
Not just pants, I will start with one of the best colors of jeans to match your black shirt. Here you go…
Best black shirt matching pant and jeans combination Ideas
1. Black shirt matching blue jeans (Casual style)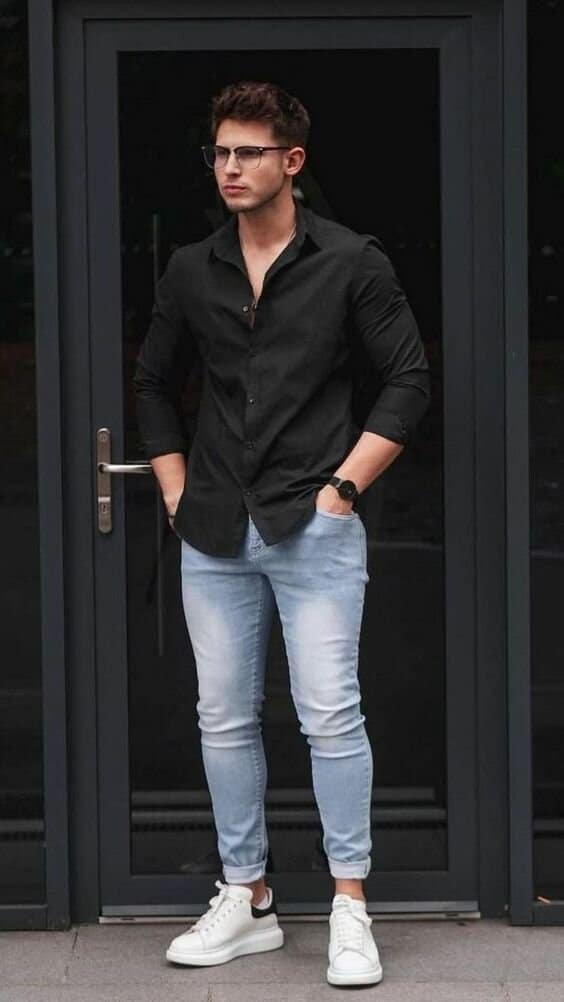 This is one of the deadly combos that goes very well for casual occasions. I mean, a blue jeans paired with a black shirt.
When I say blue, I mean light blue jeans with a black shirt. A light color looks perfect with a darker-shade shirt.
Black in itself is a dark color, so a nice-looking blue jeans is a great deal. But, if you wish to wear a dark shade of blue jeans, there is nothing wrong with that.
It is all about your choice and style. One more thing, if you pair this attire with a white sneaker and a sports watch, these extra elements will add charm to your style and apperance.
Must read: 6 Best blue jeans matching shirt combinations ideas
2. Black shirt/T-shirt with black cotton pant or jeans (Casual style)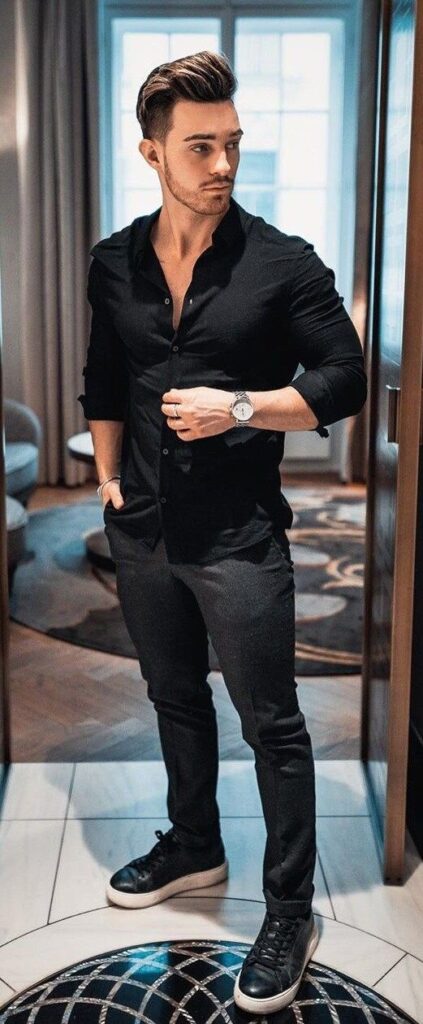 Now next pair on our list is for those who wants to be called "Man in Black". Yes, a black pant or black jeans is another great combo with a black shirt or T-shirt.
When you are out for a party or with your friend, you can try this black-black combo to add toughness to your style.
Further, you can try this combo pairing with black sneaker or canvas. Wearing a watch with this whole attire is another great addition to your appearnce.
Must read: 5 Best black pant matching shirt outfit combination ideas
3. Black formal shirt matching gray pant (Formal style)
Now next comes something from a formal outfit. And this time I have something different for you.
I mean, a light gray formal pant with a black formal shirt.
Light gray pant will add extra contrast when it is paired with a black shirt. And, this is why I though to add this match in the list.
If you have a black shirt and running out of ideas while getting ready for office, try this light gray pant.
A black loafer or formal shoes both can go well with this outfit. It is all about on what occasion you are wearing.
4. White pant matching black shirt (Formal/casual style)
Here comes a white-black combo for black and white combo lovers. A black shirt when paired with a white pant looks amazing.
If you want to bring three different colors to your appearnce you can try this black-white-brown combo.
What I mean, you can wear a brown leather shoes or loafers with this attire. If you want to tug-in your shirt, you can wear a brown leather belt matching the color of your shoes.
5. Black shirt with light gray check pant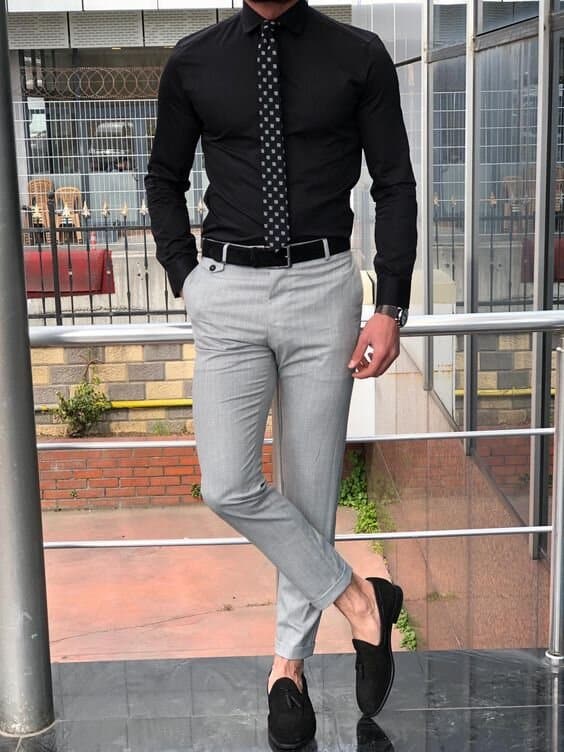 Last but not least, a light gray formal check pant with a black shirt. The attire can work well both as a casual or formal style.
By just changing shoes type and wearing style can change the mood of your attire (From Formal to casual).
It is all about how you will carry this great combo. Have a look at the pic above, it is more from casual look.
But if you will change the type of shoes and tie from casual to formal, you can easily change the style.
Final thoughts
I hope you liked this list. I could have added tons of matches in this list. But it is better to pick the best of the best matches and save you from anxiety.
If you want morre matches, just let me know in the comment I will add more matches in this list. In case, if you have more black shirt outfit ideas, do write in the comment.
I will try to update the list. Anyways, let me know which one is your favourite black shirt outfit shared above.