Are you looking for a weight loss soup recipe that is easy to prepare and help detoxify your body as well? If your answer is "yes" then you have come to the right article.
You can drink this yummy veggie weight loss soup anytime during the day. But, my favorite time to drink this soup is in the evening.
I never had imagined that homemade soups are so tasty and really help in losing weight by keeping you hydrated, calorie friendly and healthy.
Like most, I was the type of guy munching lots of unhealthy snacks in the evening when I was obese. This is the most sensitive time for a person because of they likely to eat junk during this time.
I always get confused as to what to have more with my evening snacks during my weight loss journey. Leaving old habits of junk eating was a little difficult.
I found this soup as a great replacement for my unhealthy evening junk foods. Taste, health, and satisfaction in one place.
This is how I reduced my excess fat successfully in few months: Walking for weight loss – My weight loss journey
Let me share with you the weight loss vegetable recipe without wasting your time. The best part of this soup is that you can add any of your favorite veggies in this soup to get more benefits.
But, I will share with you the way I prepare this veg soup with ingredients and preparation methods. If you want me to upload a video for this weight loss soup recipe then comment below this article.
Low-calorie weight loss soup
Ingredients: For one person.
Below is the list of ingredients you will need to prepare this recipe. You are always free to add or remove any ingredients of your choice. And, this is what makes this dish more interesting.
A must-read guide for weight loss: Weight loss motivation – Practical guide
List of ingredients:
Green beans (Half-cup)
Cabbage (Full Cup, Chopped medium size)
Spinach (Full Cup, Chopped)
Tomato (1 medium size)
Mushroom (Half Cup)
Bottle gourd (Half cup, Chopped medium size)
Carrot (Half cup, Chopped medium size)
Peas (Half cup)
Sweet Corn Kernels (Half cup)
Green Chillies (1 Piece)
Garlic (2 cloves chopped, Optional)
Curry leaves(3 to 4 leaves)
Black Pepper (Half teaspoon)
Lemon juice (1 teaspoon)
Salt (As per your taste)
Water (As required)
Oil or Ghee (1 teaspoon: Optional)
Cumin seeds (1 teaspoon)
Hing (A pinch)
Try these weight loss friendly dinner recipes.

1. Veg diet for weight loss – Corn Daliya Khichdi

2. Indian weight loss diet – Oats Veggies Khichdi

Recommended read for you: Indian diet plan for weight loss – Plan it today
Preparation Method
Take all veggies in a quantity mentioned above in a pressure cooker. Pour water into cooker till it covers all veggies completely.
Now, put salt and black pepper into the cooker and put it on medium flame on a stove. Let veggies cook for 2 whistles. After this, turn off the stove and wait for the next 5 minutes.
While you are waiting, prepare for Tadka. For this, take oil or ghee and heat it on medium flame. Then put cumin seeds, hing, and garlic into the oil. Let them splutter well and then turn off the stove.
Practice these things today for a healthy life: How to lose weight in a week at home – A beginner guide
Now open the lid of the cooker and put tadka into it gently with lid above the cooker. Add, lemon juice and your low-calorie weight loss soup is ready to sip in your favorite bowl.
I hope you will like this homemade yummy veg weight loss soup and will share with your friends and family.
A book that can change your life: Best book for weight loss motivation

Try these easy and very effective workouts: Exercises to lose weight at home fast – Simple, easy & effective
Note: Do not filter veggies and eat all of them when having this soup.
I keep sharing my tips, diet plan and lots of motivations for a successful weight loss through my Instagram account. I love writing my own weight loss quotes and share on social media. Check my Instagram account here and never lose your motivation for your mission to fitness.
Summary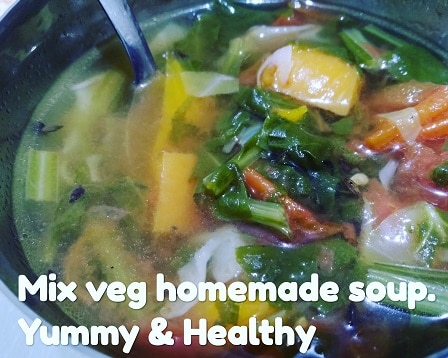 Recipe Name
Weight loss vegetable soup: Indian Recipe
Author Name
Published On
Preparation Time
Cook Time
Total Time
Average Rating





Based on 7 Review(s)