In my previous articles, I have talked about oats recipes. In this article, let's talk about oats protein per 100g, benefits, and its role in weight loss.
In this article, I will also share my weight loss journey with oats. I hope you will like reading my journey and will also gain some insights.
When people talk about diet, oats and their recipes are always the most discussed topic. Keeping in mind the importance of oats in weight loss, I am going to share with you the nutritional details of oats. Later, I will guide you through some of the most important benefits of oats.
So, let me put a nutritional table of oats showing you the details of nutritional and calories per 100g.
Oats nutrition facts, protein and calories per 100g
Below are the nutrition facts of raw oats depicting the total calories, fat, carbs, fiber, and protein per 100g of oats.
| | |
| --- | --- |
| Nutrition facts per 100g of raw oats | Estimated values |
| Protein | 17 grams |
| Fat | 7 grams |
| Fiber | 10.6 grams |
| Carb | 66 grams |
| Total Calories | 389 calories |
So, as per the above table, 100 grams of raw oats contains about 389 calories. Out of which you get 7 grams of fat, 10.6 grams fiber, 66 grams of carbs, and 17 grams of protein per 100 grams of oats in the raw form.
Oats protein per 100g
You will be amazed to know that 11 to 17% of dry oats have protein.
As stated in the table, there are 17 grams of protein per 100g in raw oats.
This makes oats a very good source of protein for your diet, particularly for veg diet plan for weight loss.
Also, oats are regarded as one of the healthiest diets rich in fiber and protein. The More Protein the more it is beneficial for your muscles and overall health.
One of the most important benefits of having a high-protein food like "oats" is that they are weight loss friendly. Because a high-protein food takes time to digest and saves you from unnecessary eating, a great way to fight hunger.
Plain oats recipe, protein and calories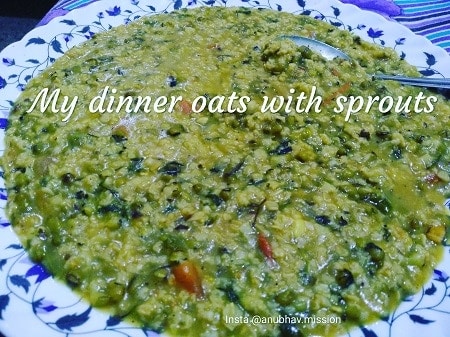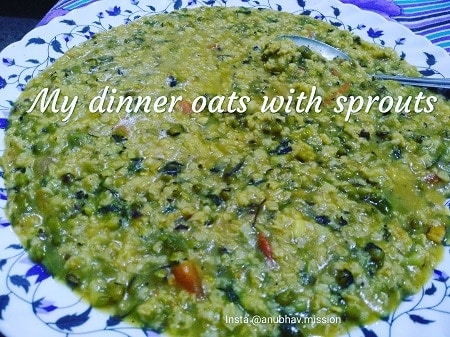 I have started my weight loss journey by adding oats to my diet and it helped me reach my goal successfully. I want to share the oats recipe that I used to prepare during my weight loss journey.
List of ingredients (1 serving):
Plain oats: 1/2 cup
Onion – 1 medium chopped
Tomatoes – 1 small chopped
Capsicum – 1 tbsp chopped
Carrot – 1 tbsp chopped
Beans- 1 tbsp small pieces
Green chilies – 1 tsp
Turmeric powder – 1/2 tsp
Black pepper: 1/2 tsp
Mustard seeds: 1 tsp
Corriander leaves – For garnishing
Cooking oil – 1 tbsp
Asafoetida – a pinch
Salt to taste
Water as required
Preparation method:
Heat a pan and add oil. Add mustard seeds and let them splutter
Now add hing and chopped chilies. Stir once
Now add chopped onions and saute them till golden brown
It's time to add chopped beans, carrot, and capsicum and fry them till they turn soft
Next, add chopped tomatoes and stir everything well
Now add salt, black pepper, and turmeric into the pan and stir well
Once all the ingredients are cooked well, now add 1 to 1.5 cups of water and let it boil
Now add plain oats to the boiling water, add salt if required
Cover the pan with a lid and let it cook for 2 to 3 minutes.
You can adjust the amount of water as per your liking. I prefer thick oats
Once "oats" is cooked well, take it out in a separate container and garnish with fresh coriander leaves.
Nutrition facts plain oats veggies recipe (calories, carbs, protein 100g oats Khichdi)
Below is the nutrition facts of 100 grams of veg oats khichdi
| | |
| --- | --- |
| Nutrition facts | Approx values |
| Protein | 2.9 g |
| Carbs | 9.8 g |
| Fiber | 1.9g |
| Fat | 2.6g |
| Total Calories | 74 calories |
Veg oats khichdi contains around 74 calories per 100 grams of serving. Out which, protein constitute 2.9 grams, carbs 9.8g, fiber 1.9g, and fat 2.6 grams.
As you can see the 100 grams of veg oats khichdi gives you around 3 grams of protein per 100 grams of serving.
Also, you have only 774 calories per 100g in oats khichdi because veggies are mostly used in preparing the recipes and also you add water in Khichdi to make it thin.
This is how I used to prepare my oats recipe for weight loss. I used to add different veggies and sometime change some ingredients to come up with different taste.
It is very common for any one on a weight loss to get bored with their diet. So, if you are smart enough to innovate your diet recipes, you will fall in love with your recipes.
For example. I used to eat oats recipes mostly for dinner. So, initially it was not a problem but slowly I got bored with same old oats recipes.
So, I tried to innovate the recipes by adding different veggies and food item. I remember, I used to add paneer sometime to my oats, sometime add palak, curd, etc. This way I happily enjoyed my weight loss journey with oats.
Benefits of oats
There are numerous health benefits of oats as they are rich in fiber, protein, vitamins, and minerals. Below are some of the health benefits of oats.
Oats can help you lower cholesterol and thereby reducing the risk of heart-related diseases.
Another benefit of having oats is that it may prevent type-2 diabetes. Here is the detail of the study
As oats are rich in fiber, it may help in keeping you full and avoiding unnecessary snacking
Oats are also rich in protein, this may help promote weight loss and be good for muscles growth
Oats may also help in lowering blood sugar.
Oats are rich in vitamins, mineral, and antioxidants which is very beneficial for overall health.
I hope you must have enjoyed reading this article and gaines some insights on oats nutrition data including protein per 100g of serving and calories details.
Disclaimer: The data, facts and figures showed in this article may not be accurate. The admin of the website has gathered data from different reputable sources but the admin does not guarantee the correctness of data. This article is meant for knowledge and should not be accepted as any medical advice. Please consult an authorised diet expert before following any tips or data shared on this page and website.