Kala chana or Black Chana is a boon to humanity and therefore let's talk about Kala Chana nutrition facts, protein, benefits, chana chat recipe, and calories in this article.
Yes, Kala chana is a boon because it is rich in protein and a favorite source of protein for vegetarians. I am going to talk about everything you need to know about Kala chana and its benefits in this article today.
I am sure you gonna love this small guide. Towards the end of this article, I will share with you one of the most popular and mouth-watering healthy Kala Chana chaat recipes.
So, do not forget to read till the end.
Having said that, let's first get started with the meaning of Kala chana and know some related facts.
What is Kala Chana or Black Chana?
Kala chana also called Black Chickpea in English and popularly known as Bengal gram is a legume and a winter season crop widely grown in India.
It is majorly grown in dried states of India including Rajasthan, MP, and Maharastra.
It is widely popular in every Indian household due to the high protein content in Kala Chana. Many Indians love eating boiled or soaked Kala chana in the morning.
There are numerous health benefits of eating soaked chana which we will see in the upcoming topics below.
But before talking about the benefits of eating Kala Chana, let us know the nutrition facts of Kala chana in 100 grams.
Kala chana nutrition facts 100 grams (Black Chana calories)
Find the calories and nutrition facts of Kala chana (Chickpeas, garbanzo beans, Bengal gram raw ) in 100 grams of serving.
| | |
| --- | --- |
| Kala Chana Nutrition (100g) | Approx. Values |
| Protein | 20g |
| Dietary Fiber | 12g |
| Carb | 63g |
| Fat | 6g |
| Calcium | 57mg |
| Iron | 4.31mg |
| Potassium | 718mg |
| Total Calories Kala Chana | 378 |
Source
As you can see from the above nutrition table, 100 grams of Kala chana contains about 378 calories. Out of which, you get 20g of protein, 63g of carbs, dietary fiber constitutes 12g and total fat is about 6g.
Also, the Potassium and calcium in Kala chana are 718mg and 57mg respectively. Kala chana is also a good source of iron and in 100 grams of Kala chana, you get about 4.31g of iron.
Also read:

1. Paneer PROTEIN: Nutrition facts 100gm, calories, & dishes
Protein in Kala Chana per 100 grams
Whenever someone says, Kala Chana or Bengal gram, or Blacj chana, the first thing people think about is protein. And the reason for its popularity is because of its high-protein content.
100 grams of Kala Chana has 20grams of protein. So, if you are adding 100 grams of Kala chana to your diet, you will get 20grams of protein which is 40% of the daily value of a standard 2000 calories diet.
Which is an amazing figure compared to other sources of protein.
People who prefer a veg diet have only limited sources of veg protein. But, these tiny balls fulfill the protein requirements of your diet if eaten in the right manner and quantity.
Also read:

1. Calories in one chapati: Roti nutrition facts (carbs, protein, fiber)

2. Toor, moong, chana dal: Protein, Nutrition facts 100g, calories
Kala chana chaat recipe
So, finally, your wait is over and I am here with an all-time favorite mouth-watering Kala chana chaat recipe. A great high-protein recipe that can fit almost every type of diet – weight loss diet, weight gain, or muscle gain diet.
This 5-minute breakfast recipe is tangy in taste and has a significant amount of other weight-loss-friendly veggies in it.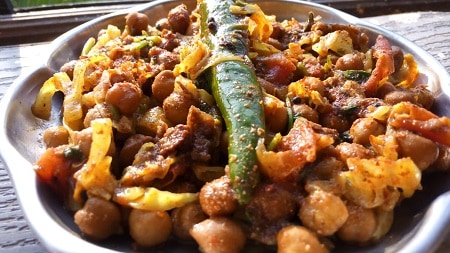 This was one of my favorite weight loss evening snacks that I used to eat during my weight loss journey. I am sure you will enjoy this recipe and write back to me.
Find the recipe ingredients and preparation method with nutritional details of Kala chana chaat in the button below.
Have you checked your latest BMI? Check Here
Benefits of Kala Chana
Kala chana or chickpeas may help you manage your blood sugar levels as they are rich in fiber and protein. (Research)
As they are rich in fiber they may help you in digesting your food. High-fiber foods are known to be good for human digestion. (Research)
As we have seen in the first benefit that Kala chana is good for managing blood sugar levels. So, Kala chana may help you prevent or manage Diabetes as they are rich in protein and fiber. (Research)
Minerals like potassium and magnesium are good for a human heart. The best thing about Kala Chana is that they are rich in both potassium and magnesium. (Research)
Kala chana is rich in protein which may help in muscle building and repair muscles after a workout.
Kala chana may help in weight loss management by reducing your apetite as protein and fiber takes time to digest.
Benefits of eating soaked kala chana in morning
Eating soaked Kala chana is very beneficial for your health. And, many people in India love eating soaked Kala chana in the morning in the form of Salad or eat just plain.
So, here are some of the benefits of eating soaked Kala chana early in the morning:
Soaked Kala Chana has more water content in it and is also low in calories, which may help you in weight loss management.
Eating soaked Kala chana may help you in muscles growth as they are high in protein and the best source of plant-based protein. Many Gym-goers prefer eating soaked Kala chana early in the morning to meet their protein requirements.
Soaked Kala chana has high fiber content in it which can lead to improved digestion and helps in digesting food.
Kala chana insures and maintains your blood volume as they are rich in iron. So, eating Kala chana every morning may prevent the loss of blood in your body.
Soaked Kala chana is also good for healthy hair as they have Vitamin A, B, and E which can keep your hair strong and attractive.
There are numerous health benefits of eating soaked Kala chana every morning. Maybe this is why our elders used to eat soaked chana every morning. The secret revealed!
Now, have a look at the nutritional values of soaked Kala chana in the table below. This is just for reference and the figures are approx values and may vary.
Soaked Kala chana nutrition 100g (Calories, protein, carb and fat)
| | |
| --- | --- |
| Soaked Kala chana Nutrient (100g) | Approx values |
| Protein | 15g |
| Carb | 45g |
| Fat | 5g |
| Total calories | 300 |
Now you can understand why Kala chana is good for your health and people have been eating since the olden days.
100 grams of soaked chana has approx 300 calories and 15 grams of protein. The carb and fat are 45g and 5g respectively.
Kala chana for weight loss
Including Kala chana in your diet not only support your weight loss journey but also takes care of your protein intake.
They are a low-calorie density food which is a crucial factor to lose weight smartly with your diet. Low-calorie foods are those foods that are low in calories relative to their weight/volume. (More on this).
The best example to understand calorie density is a 100 grams veggie (40 calories) vs 100 grams chocolate (500 calories).
The weights are the same but the calories make a significant difference.
This is why Kala chana is known to be one of the best low-calorie density food automatically helping you consume fewer calories eating more. Bingo! losing weight with Kala chana is super easy now.
Another important thing to note is that Kala chana can help you lose weight by controlling your appetite.
As they are rich in protein and fiber, they take time to digest by the human body, thereby helping you avoid unnecessary eating between meal hours. So, directly or indirectly, Kala chana is a very good diet for weight loss.
I hope you loved this article and have understood how healthy is Kala chana and can be one of the best protein-rich veg foods to add to a diet.
In case, you have any questions regarding this article or related to weight loss, drop a message on my Instagram account. Happy healthy eating!
Read More: Best Massage chair
Disclaimer: This article is only for general information and should not be accepted as medical advice. Please consult an authorized medical expert before following any tips, facts, figures, and recipes shared on this page. We do not claim for the accuracy of data and facts shared in this article which are collected from various online sources.