Many of you asked me to write about Keto Diet and particularly about the Indian keto diet plan. In this detailed guide, I will cover everything you need to know about the Ketogenic diet.
You can navigate to the table of contents in the article to get an overview of different topics on Keto.
What is keto diet?
A keto diet (or, ketogenic diet) is a low-carb and high-fat dieting style to lose weight effectively.
The Keto diet is much in talks for a few years and this is because of its effectiveness in losing weight and many health benefits.
Some studies have shown that Keto dieting has shown positive results in weight loss and improved health.
The Keto diet got its name from the molecule name called "Ketones" our liver produces from fat when we are on a low-carb diet or eat fewer calories. Ketones are like extra fuel to our body (particularly, for the human brain use) when the glucose level falls short.
Our brains consume a bigger chunk of energy for it to function and it solely relies on the energy that our body produces. Our brain can not consume fat directly and it needs a converted form of fat energy — ketones, and Glucose.
When on a ketogenic diet our body starts consuming more fat stores to convert into energy (Ketones) for our body to function, thereby helping burn fat and lose weight easily.
And this is why the keto diet plan is followed for weight loss by consuming more fat and fewer carbs.
Know how I was able to reduce 17 kilograms in 4 months: Weight loss story of Anubhav Kumar – My transformation journey to transform lives
Indian keto diet plan
Now Keto diet is gaining popularity in India as well, and many people are following the ketogenic diet plan to lose weight.
I always say in most of my articles and want to say it here again that it is not at all advisable to copy any random diet plan or diet chart. Everyone's body is different and your diet plan must be made according to your body type, age, and your current medical condition.
Therefore, I will share some Indian keto diet food options (vegetarian and non-vegetarian) that you can add to your own diet plan after consulting your dietician.
Indian Keto diet plan breakfast options
Paneer bhurji sauteed in ghee with veggies
Paneer chunks veggies salad
Egg bhurji sauteed with veggies
Omlette with veggies in cheese
Tofu Bhurji with bell peppers
Tofu-paneer mix bhurji with veggies
Egg scrambles
Bacon
If you are a coffee lover you can have a cup of Bullet Coffee with your breakfast.
Keto diet vegetarian paneer recipe
Indian keto paneer recipe video: Read full article
Indian keto diet plan lunch options
Avocado, spinach, paneer, and tofu sauteed with a layer of cheese or butter
Avocado, spinach, egg, and tofu sauteed with a layer of cheese or butter
Seek kabab
Button mushroom-paneer sauteed bowl with cheese
Cauliflower, button mushroom, avocado, bell peppers, sauteed bowl with boiled eggs
Paneer tikka with veggies
Lettuce burger with cheese
Tuna salad
You can have yogurt lassi as a side dish with your keto lunch.
Indian Keto diet plan dinner options
Low carb pasta in cheese and butter
Cauliflower rice bowl
Stuffed bell peppers
Baked salmon
Paneer tikka with veggies
Paneer pieces sauteed in cheese
You can have chia pudding with your dinner as a dessert.
Here is another article on diet plan: The best Indian diet plan for weight loss – Plan it today
Indian keto diet plan chart example: ~ 1200 calories
I am going to list down all the keto-friendly dishes in the keto diet chart below. This is an example keto diet chart just for your reference.
Indian keto diet chart for vegetarians
1. Breakfast:
| | | |
| --- | --- | --- |
| Item | Size | Estimated calories |
| Paneer bhurji | 100 g | 205 cal |
| Bullet coffee | 1 teacup | 155 cal |
| Soaked almonds | 5 pieces | 40 cal |
| Total Calories: ~ 400 cal | | |
2. Lunch
Item
Size
Estimated calories
Palak Paneer with cream topping
200 g
240 cal
Mixed veg salad:
(Cucumber, capsicum, cabbage, and onion)
1 bowl
84 cal
Avocado Smoothie
100 ml
100 cal
Total Calories: ~ 420 calories
3. Dinner:
Item
Size
Estimated calories
Cauliflower rice bowl
1 bowl
335 cal
Stuffed bell peppers
50
80 cal
Total calories: ~ 415 cal
Indian Keto diet plan free PDF download
Download the free Keto diet plan pdf for your reference. Click the download button.
List of Keto friendly Indian foods
Here is the list of Indian foods that are allowed in the keto diet and can be used in your meal preparation.
Spinach, cabbage, green beans, cauliflowers
Bell peppers, avocado, zucchini, broccoli, etc
Cheese, cream, butter, and ghee
Olive and coconut oil
Paneer and tofu
Eggs, meat, chicken, and fish
Almonds, walnuts and other dry fruits
Soya and almond milk
Less sugar or sugarless peanut butter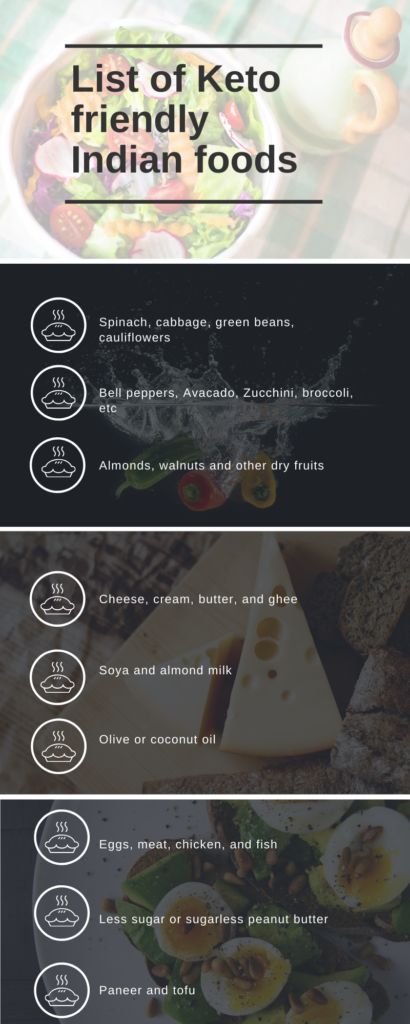 There are other keto-friendly foods that are allowed which are not possible to list here.
Best vegetables for weight loss in India – A list
Food to avoid in keto diet plan
Here is the list of food you should not eat in keto dieting.
| | |
| --- | --- |
| Sugar | Honey |
| Potatoes | Milk |
| Alcohol | Carbonated drinks |
| Processed food | Sweets |
| Pluses and legumes | Grains & cereals |
Types of Ketogenic diet plan
Below are the types of keto diets:
Standard ketogenic diet: This is a very low-carb, moderate-protein, and high-fat diet. 75% fat, 5% carbs and 20% protein.
High-protein ketogenic diet: In this form, high protein is allowed compared to standard form. Around 35% protein, 60 % fat, and 5% carbs.
Cyclical ketogenic diet (CKD): CKD or carb backloading is a cycle of the keto diet, say, 5 days high fat followed by 2 days of high carbs.
MCT ketogenic diet: The main focus is on medium-chain triglycerides(MCT) which are found in coconut oil.
Targeted ketogenic diet (TKD): TKD is like a Standard Ketogenic diet in which you are allowed to add carbs around your workout period.
Before following any of the above types always consult an authorized dietitian or medical expert.
These are some popular protein-rich Indian food: Protein rich food in India for vegetarians – Top 11 list
Benefits of Ketogenic diet
Find some of the benefits of keto diet below.
A study found that keto diet has helped people with type 2 diabetes.
Another study found that there was a significant improvement in insulin sensitivity.
There are other studies conducted that showed positive signs improving heart diseases, acne, etc.
Keto diet helps in reducing fat and thus helps in weight loss.
Indian weight loss recipes you can try:
Disadvantages of Ketogenic diet plan
Here are some of the side effects of the keto diet
Keto flu — This includes poor energy, sleep issues, digestion problem, etc.
Diarrhoea is another issue you may suffer due to excess fat consumption.
You may lose muscles with keto diet.
May cause leg cramps due to a drop in electrolytes in your body.
There are many other side effects that are not possible to cover here.
Conclusion
I hope you got some useful insights from this article. Many studies have found the keto diet to be useful in weight loss but still not enough evidence to support it.
I personally believe dieting is about calorie restriction than following any particular dieting style. Some lose weight following the traditional way of dieting, some following intermittent fasting or keto dieting.
Whatever works for you and is advisable, try to follow it. Dieting is more about healthy living, healthy eating, and regular workouts than just about weight loss.
Some think of it as a fad and some follow it to lose weight. The Keto diet has gained worldwide popularity including in India. So, I thought to write a detailed article on the Keto diet and share some food to be added to an Indian keto diet plan.
Must read: The best practical weight loss motivational tips to follow
Disclaimer: This article is only for the purpose of knowledge and should not be followed immediately. Always consult an authorized dietitian before following any information shared on this page and on this website.
Summary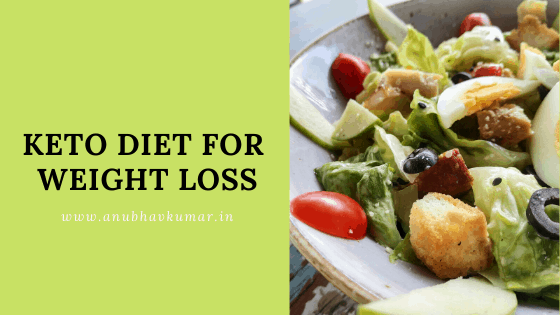 Recipe Name
Vegetarian KETO diet recipes Indian
Author Name
Published On
Average Rating





Based on 7 Review(s)