Here is the mother of all veg protein recipes, the Ghugni recipe. It is one of the tastiest recipes full of protein and health benefits.
This is why I am here to share with you my all-time favorite recipe, the Ghugni recipe. Many of my readers might not be knowing what ghugni is and how to prepare it. So, let me introduce you to my recipe.
What is Ghugni?
Ghugni is a recipe from Indian cuisine prepared using Bengal grams or Kala chana and Indian spices. You must have guessed by now why I have said the ghugni recipe is full of protein.
Yes, it contains Kala chana which is one of the high-protein food and a favorite source of protein for vegetarians.
Enough talking, now let me show you how to prepare the Ghugni recipe at home.
Ghugni recipe
Find the list of ingredients for Ghugni.
Ingredients required:
Soaked black gram (Kala chana) – 1 cup (soaked)
Tomato – 2 (chopped)
Green chilli – 1 (chopped)
Gram flour – 1-2 tsp
Panchforan- 1/2 tsp
Asafoetida (hing)- a pinch
Ginger – 1/2 tsp (grated)
Coriander leaves – a handfull (chopped)
Kasuri methi – 1 tsp
Black pepper powder- 1/3 tsp
Bay leaf (tejpatta)- 1
Dry red chilli – 1
Coriander powder- 1 tsp
Cumin powder- 1/2 tsp
Turmeric powder- 1/3 tsp
Red chilli powder- 1/3 tsp
Garam masala powder- 1/3 tsp
Dry mango powder- 1/2 tsp
Mustard oil – 1 tbsp
Salt – to taste
Learn how to prepare TANGY KALA CHANA CHAAT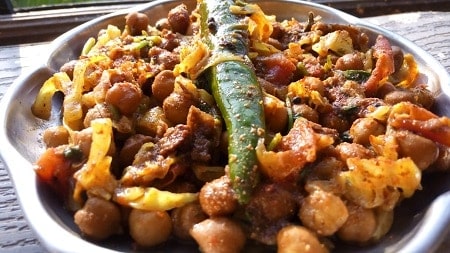 Ghugni Preparation Method:
Take a pressure cooker and add soaked black chana to it.
Now add water and salt, close the lid of the cooker
Cook chana for two whistles on a medium flame
After 2 whistles, check if chana is cooked well.
Transfer the chana to a bowl and keep it aside
Now heat the same pressure cooker and add oil to it
Put panchforan and hing into the heating oil and let them splutter well.
Now add red chili and bay leaves, stir a little
Add green chili and ginger, stir well
Now put chopped tomatoes and stir well
Now add 1/2 tsp of salt and coriander powder
Add cumin powder, red chili powder, and back pepper one by one, stir well
Now add turmeric powder, garam masala, and amchur, stir well
Stir well till all the spices are cooked well
Now add besan and mix everything well
Its time to add boiled chana that is kept aside into the cooker, mix well
Add 1/2 cup of water into the cooker and mix well.
Now put the lid on the cooker and cook chana for another two whistles on a medium flame.
On two whistles, free the air and open the cooker
If you want mash a small portion of ghugni to make a gravy with medium consistent, or avoid as per your liking
Your healthy, spicy and yummy Ghugni recipe is ready. Now add chopped coriander leaves and serve hot.
Ghugni recipe calories and protein (100 grams)
Below is the table describing the nutrition values of the Ghugni recipe. Please note that these values are estimated ones.
| | |
| --- | --- |
| Chana Ghugni nutrition profile | Estimated values (100g) |
| Protein | 4.2g |
| Fat | 4g |
| Carbs | 16g |
| Fiber | 7g |
| Total Calories | 114 calories |
As per the above table, 100 grams of Ghugni recipe contains 114 calories, out of which you get 4.2g of protein, 4g of fat, 16g of carbs, and 7g of fiber. This is why it is one of the popular diets for weight loss. It is rich in protein and other important nutrients.
Know the nutrition profile, calories, and benefits of Kala Chana
Protein in Ghugni
100 grams of ghugni has a whopping 4.2g of protein making it a perfect high-protein diet for weight loss, weight gain, and muscle gain.
High protein in chana ghugni makes it a perfect diet for vegetarians. People on a veg diet have limited sources of protein, therefore, the ghugni recipe is idle protein diet food for vegeterians.
Ghugni for weight loss
There is no doubt, ghugni is one of the best diets for weight loss. The reason is it is the best source of protein and helps you fight hunger in an effective manner.
If any healthy food is able to keep you safe from unnecessary snacking, it could a perfect diet for weight loss. Many may be confused looking at the carb side of ghugni on our nutrition table because it is high in carbs.
But let me tell you, for weight loss every nutrient is important and if you are eating under your daily calorie budget, Ghugni will support you in weight loss. End-of-the-day calorie deficit matters for weight loss.
If you are still confused read the below guide on how many carbs one should eat a day to lose weight.
How many carbs a day should I eat to lose weight?
Even, I had recipes made with chana like Tangy Kala Chana Chaat and Ghugni recipe during my weight loss journey.
Tips for Ghugni recipe
Below are some useful tips to make your ghugni recipe healthy and yummy:
Use mustard oil instead of refined oil to cook your Ghugni. This will make your recipe tasty and keep you away from the ill effects of refined oil.
Add lemon juice to make your chana Ghugni tangy and mouthwatering
You can use onions and garlic to add extra flavors to your ghugni
You can eat Ghugni with roti and rice as per your likings
Some people add potatoes to the recipe, if your diet allows adding potatoes, you can some chunks of it
I hope you like the ghugni recipe and gonna love adding it to your diet. Let me know if you have anything to share about the recipe in the comment.