Dal Dhokli is one of the popular traditional recipes of Gujarat. This delicious and healthy recipe is prepared using toor dal and wheat dough in different Indian spices.
Dal Dhokli is not just a staple food of Gujarat but is also enjoyed in other parts of India including Rajasthan, Bihar, UP, etc.
It is also known by different names with a little twist in this recipe in different regions. For example, people in Bihar call it Pittha.
It is one of the best diets you can have for weight loss. It is loaded with nutrition and at the same time rich in protein due to dal and wheat.
I used to have it some time for my dinner during my weight loss journey. If you are eating in the right quantity as per your diet plan it will a boon to your weight loss.
Now, let us learn how to prepare this yummy and healthy Dal Dhokli from Gujarat Cuisine.
How to make Dal Dhokli (The Recipe, 4 servings)?
Let me show you all the ingredients you will be needing to prepare this traditional dish and later move on to reading the preparation method.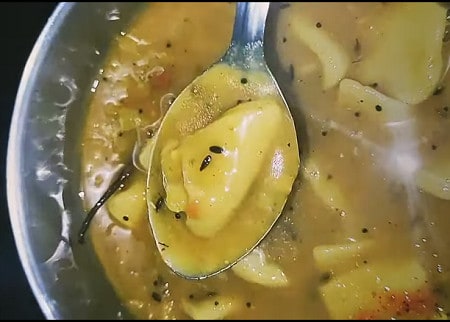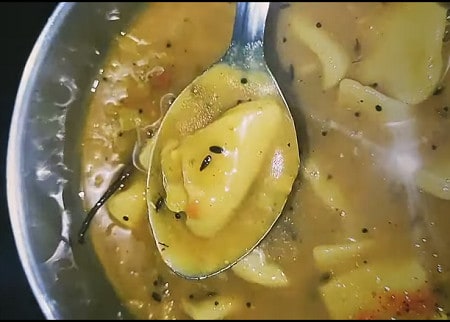 List of ingredients:
Rinsed Toor dal/Split pigeon peas – 3/4 cup
Wheat flour dough (atta) – 3/4 cup
Gram flour (besan) – 2 tsp
Jaggery (gur) grated – 1.5 tsp
Mustard seeds – 1/2 tsp
Cumin seeds – 3/4 tsp
Turmeric powder (Haldi) – 3/4 tsp
Red chilli powder 3/4 – tsp
Asafoetida (Hing) – 1/2 tsp
Red chillies broken (Dry) – 2 Pc
Curry leaves 6-8 Pcs
Chopped Coriander leaves – 2 tbsp
Oil – 1 tbsp
Ghee – 1 tbsp
Salt to taste
More Recipes for you:

Moonglet recipe: Vegetarian Omelet
Dal Dhokli Preparation Method:
Take a pressure cooker, add water, dal, and heat it on a medium flame.
Now add turmeric powder and salt and allow dal to cook properly till it turns smooth.
Once dal is cooked take it out in a separate pan to be used later
Take a bowl and add wheat flour, gram flour, a pinch of turmeric powder, salt, red chili powder, one pinch of hing, and a little oil, and mix everything well.
Now add water into the mixture, knead them and make a stiff dough.
Take a rolling pin and a small ball of dough and roll the dough into a thin base.
Now cut these bases into thin strips to be dipped and cooked in our dal kept aside.
It is time to heat our dal and add remaining turmeric powder, red chili powder, jaggery to it. Stir it well.
Now add the wheat strips into the dal and allow it to cook on a medium flame. Stir gently without breaking the strips.
For Tadka: Take a pan and heat ghee. Add mustard seeds, dry red chilies, cumin seeds, curry leaves, and remaining hing, and add allow the seeds to splutter.
Now add this tadka into our cooking dal dhokli and turn off the stove.
Take a serving bowl and transfer the dal dhokli into it. Garnish with coriander leaves. Your healthy protein-rich dal dhokli is ready to yum.
Serving size: 4
Preparation time: 15 minutes
Cooking time: 30 minutes
Total Time: 45 minutes
Once you have known how dal dhokli is prepared it is time to know the nutrition value of dal dhokli per serving.
Calories in Dal Dhokli (Nutrition values) per serving
| | |
| --- | --- |
| Nutrition in Dal Dhokli | Estimated Values |
| Protein | 5.2g |
| Fat | 7g |
| Carb | 26g |
| Fiber | 2.6g |
| Total Calories | 185 calories |
As you can see in the above table, 1 serving of dal dholki contains around ~185 calories out of which you get 5.2g of protein, 7g of fat, 26g of carbs, 2.6gof fiber.
So, 1 serving of dal dhokli might be a good fit for a light dinner or can be adjusted as per your diet plan.
Protein in Dal Dhokli
Dal dhokli is also rich in protein and contains about 5.2g of protein per serving. This is why it is one of the best Indian diets for weight loss, muscles, and even weight gain.
Carbs:
Another thing to note down that dal and wheat dough in the dal dhokli recipe make it a little heavier in carbs. So, adjusting the amount can be a great fit for people who are on a low-carb diet and wants this recipe into their diet plan.
Here are some of the important tips you can follow for this recipe. I am sure you gonna love all the tips shared below.
Takeaway and tips
Use ghee or mustard oil instead of refined oil to make it tasty and healthy
Instead of wheat dough strips, you can make small balls of the dough and enjoy the recipe with a twist
You can use left-over dal to prepare the dal dhokli than preparing dal from scratch
If you want to enhance the taste, you can add lemon juice into the recipe towards the end
I hope you enjoyed the dal dhokli recipe and some important tips shared on this page. If you liked this recipe do let me know in the comment or drop a message on my Instagram.