Here I bring you today a recipe of chana chaat that you can enjoy anytime. I am sure once you will prepare today's dish, you will fall in love with it.
A high-protein salad can be eaten with breakfast, lunch, or dinner, even as an evening snack.
Sometimes, I used to eat this chana chaat with puffed rice as my evening snacks during my weight loss journey.
Here comes your protein-bomb snacks and salad.
Chana Chaat Recipe
Find the list of ingredients to be used in the preparation of chana chaat.
Ingredients
Sprouted bengal gram (ankurit chana)- 1 bowl
Cabbage – 1/2 cup
Carrot (gajar)- 2 tsps (chopped)
Capsicum- 2 tsps (chopped)
Tomato- 1 medium sized (chopped)
Green chilli (hari mirch)- 2 (chopped)
Coriander leaves- 2 tsps
Ginger- 1/2 inch (grated)
Turmeric powder- 1/4 tsp
Red chilli powder- 1/3 tsp
Roasted coriander and cumin powder- 1 tsp
Tamarind juice- 2 tsps
Black salt- 1/3 tsp
Salt- As per taste Oil- 1 tbsp
For Garnishing: coriander leaves.
Preparation method
Into a pressure cooker put gram (chana), and then add water and salt, stir it.
Close the lid and let it cook till one whistle on a medium flame.
Heat a pan and put oil onto it. Let the oil heat.
Add chopped cabbage, capsicum, and carrot, stir it. Fry it for 2 to 3 minutes on a medium flame, add salt and mix them well.
.Then add turmeric powder and mix it well. And then, add tomato, green chilies, and ginger, stir it well.
Cover the pan and let it cook for another 2 to 3 minutes or till veggies soften.
Open the lid and stir the vegetables well. Add boiled grams and mix it well with the veggies.
Add red chili powder, roasted cumin, and coriander powder. And, then add black and white salt. Mix all the ingredients well.
Switch off the flame, add tamarind juice, and mix it well.
Garnish it with coriander leaves and you chana chat protein snack is ready to be eaten
Chana Chaat recipe video
Below is the chana chat video recipe.
Nutrition value
Below is the approx nutrition value per 100 grams of chana chaat.
Protein: 3.4 gram
Fat: 1 gram
Carbs: 15 gram
Fiber: 6.6 gram
Total Calories (100grams): 82 calories
Preparation time: Chana Chaat
Servings: 2 servings.
Preparation time: 5 Minutes
Cook Time: 20 Minutes
Total Time: 25 Minutes
Summary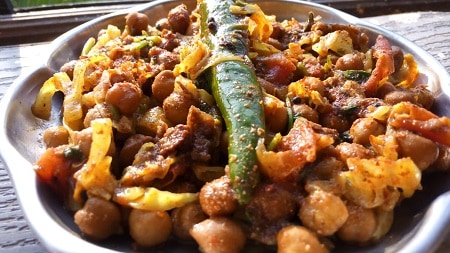 Recipe Name
Protein-rich weight loss diet food: Recipe of chana chaat
Author Name
Published On
Preparation Time
Cook Time
Total Time
Average Rating





Based on 5 Review(s)