I know many of you have been waiting so long for my all-time favorite moong dal chilla recipe.
Your wait is over and this time I have come with a new twist with the recipe. Yes, a new twist, by adding more protein into the chilla.
This was one of the breakfasts I used to have during my weight loss journey.
Previously, I used to eat it plain but these days made it more weight loss-friendly and protein-rich by stuffing paneer into the chilla.
You can enjoy this chilla with varieties of Indian chutneys like tomato chutney, coriander leaves chutney, coconut chutney, peanuts chutney, etc.
I am sure you will love this recipe and write back to me with your yummy feedback. So, let's get started with the recipe.
Moong dal chilla recipe
Find the list of ingredients and preparation method of moong chilla below.
Ingredients
For chilla:
Split green gram- 1 bowl
Ginger- 1/2 inch
Green chili- 1
Turmeric powder- 1/4 tsp
Asafoetida (hing)- 1-2 pinch
Salt- As per taste
Clarified butter (ghee)- for roasting the chilla
For paneer stuffing:
Cottage Cheese (paneer)- 150 gms (grated)
Carrot- 1 tbsp (finely chopped)
Capsicum – 1 tbsp (finely chopped)
Ginger- 1 tsp (grated)
Green chilli- 1 (finely chopped)
Coriander leaves- 1 tbsp (finely chopped)
Black pepper powder- 1/3 tsp
Cumin powder- 1/3 tsp
Dry mango powder- 1/3 tsp
Oil – 1 tsp
Salt – As per taste
Preparation method
For chilla:
Take a bowl of moong dal and wash properly with water. Soak them for 2 to 3 hours.
In a grinding jar put soaked moong dal, chili, ginger, salt, turmeric powder, asafoetida, and water (2 tbsps). Grind it into a fine paste.
Take out the paste into a bowl.
For paneer stuffing:
Heat a pan and put oil. Add chopped chilies and ginger, stir them.
Then add chopped carrot and keep stirring. Now add chopped capsicum and stir it. Fry veggies for two minutes.
Add grated paneer and stir well. Add salt, cumin powder, black pepper powder, and dry mango powder. Stir all the ingredients well.
Switch off the flame as we do not have to fry paneer, just mix it well with the ingredients.
Add chopped coriander and mix it well. Your stuffing is ready now.
Final cooking:
Check the consistency of batter before preparing the chilla,
Heat a pan (Tawa) and sprinkle some water. Wipe it with a tissue paper or cotton cloth.
Take a small amount of batter (2 tbsps) and spread wide around the Tawa with a light hand.
Cook it for 1 minute on a medium flame. Apply ghee on chilla. Carefully flip it and cook another side for a few seconds and then flip it back.
Add 3 to 4 tsp of paneer stuffing on the chilla, then fold it either halfway or roll it as per your liking.
Your crispy moong dal chilla is ready to munch on with your favorite chutney.
Recipe of moong dal cheela video
You can watch the moong chilla recipe below(Credit: kitchen gyaan Youtube video.)
Ghee brand used in the preparation of the recipe
Below is the brand of ghee I have used in the preparation of moong dal chilla for weight loss. If you use packet ghee, I would recommend using the below brand for better taste and experience. You can check the latest price of the ghee online below.
Preparation time for moong dal cheela
Servings: 1 serving.
Preparation time: 10 Minutes
Cook Time: 20 Minutes
Total Time: 30 Minutes (Excluding dal soaking duration)
Suggested weight loss articles for you to read
Calories in Moong dal chilla: Nutrition value
One plain moong dal chilla contains approx. 133 calories. And, with panner stuffing (50g), it accounts for approx. 240 calories
Find the nutrition fact in the moong dal chilla. Note it, below is the approx value.
Moong Chilla (1 chilla):
Protein: 7.9 gram
Fat: 2.7 gram
Carbs: 19.4 gram
Fiber: 2.8 gram
Total Calories (1 chilla): 133 calories
Paneer stuffing (50 gram):
Protein: 5.9 gram
Fat: 8.3 gram
Carbs: 1.6 gram
Fiber: 0.4 gram
Total Calories (50 gram): 104 calories
Below are some other recipes you can try.
Let me know in the comment if you tried and enjoyed this moong dal recipe. I will wait for your feedback.
Summary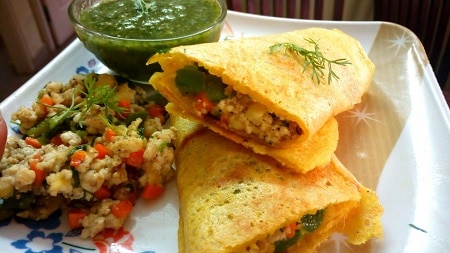 Recipe Name
MOONG DAL CHILLA for weight loss: Pesarattu dosa recipe
Author Name
Published On
Preparation Time
Cook Time
Total Time
Average Rating





Based on 19 Review(s)