Today, I have something tasty and healthy to share with you. I am going to share how to make dalia for weight loss.
This is my favorite veg Dalia khichdi for weight loss. We get confused sometimes what to add in our diet when in our weight loss journey.
We already know, for weight loss, low calories foods are important but the question is, what all food options are there that can be added to our diet.
One such recipe is Corn Dalia Khichdi for weight loss which is tasty and healthy at the same time. This can be eaten anytime, let it be breakfast, lunch or dinner as per your choice.
Soon, will share with you how to make Dalia khichdi to help you lose weight.
Corn Daliya Khichdi is simple to prepare and you require a few things to arrange. I will list out all ingredients that are required to prepare and also show you the way it is prepared.
Mostly, I prefer eating Corn Daliya Khichdi in my dinner. I also enjoy eating "Oats khichdi" in my dinner which I already shared on my website. You can check here if you want to know another best healthy diet for weight loss:
Suggested article for you: Best book to read in your weight loss journey
So, let's get started with the corn dalia recipe
How to make Dalia for weight loss
Please go through all the points below about the ingredients and cooking process. I will also share with you the video link below, the way my sister prepares.
She has her YouTube food channel (@kitchen Gyaan) and I requested her to make a video of dalia khichdi as many of you have asked about it. I learned the preparation method from her only. So, let's get started.
Dalia recipe
Corn Daliya Khichdi ingredients: (3 servings)
Corn Daliya (makai ka dalia)- 1/2 cup
Split green gram (moong daal)- 1/3 cup (washed)
Carrot (gajar)- 2 tbsps
Capsicum (shimla mirch)- 2 tbsps (chopped)
Tomato (tamatar)- 1 (chopped)
Green peas (hari matar)- 2 tbsps
Green chillies (hari mirch)- 2 (chopped)
Coriander leaves (dhaniya patta)- 2 tbsps (chopped)
Turmeric (Haldi) powder- 1/4 tsp
Mustard seeds (Rai)- 1/2 tsp
Cumin seeds (jeera)- 1/2 tsp
Asafoetida (Hing)- 1 pinch
Salt (namak)- 1/2 tsp
Oil- 2 tsps
Water (pani)- 2-3 glass
Suggested article for you: This is what you can gift to yourself in your fitness journey.
Corn Daliya Khichdi preparation method: (For 3 people)
Heat a pressure cooker and add 2 tablespoons of oil into it. I prefer adding mustard oil. Add cumin seeds and mustard seeds into oil and let them splutter then add asafoetida. Put green chilies and add all chopped veggies into it.
Then add corn daliya and stir-fry for 2 to 3 minutes all ingredients. Add chopped tomatoes and stir-fry everything well. Then add washed split green gram into it and mix everything well.
Add water, salt, and turmeric powder. If you want you can add a pinch of black pepper as well. Close the lid of the cooker and wait until 2 whistles on a medium flame. After this, open the lid and check if more water is required.
You can add more water (Warm water) as per your choice. Your yummy healthy corn khichdi is ready in no time to be eaten.
=> Total calorie per 100gm is around 70 to 80 calories.
Suggested article for you: Benefits of green tea in weight loss and how it helped me in my journey
The below video by my sister will help you more with the preparation method. Watch it and enjoy your healthy meal.
Dalia Khichdi Recipe Video
Note: Please note down, above video is for 3 servings means the quantity is for 3 persons. You can adjust the number of ingredients based on the number of persons for whom you are making.
I hope you liked this article on how to make Dalia for weight loss.
Do not get worried if you are confused about what brand of corn daliya to be bought. I will share with you the link below so that you can get it easily at your home.
Important to note: As always, I prefer buying organic food to prepare my diet meal for good results and assurance. And therefore, I suggest you go organic and enjoy your weight loss journey.
You can check the link below to the corn daliya that I use in my corn daliya khichdi preparation.
Link to the organic corn dalia: Click Here
Summary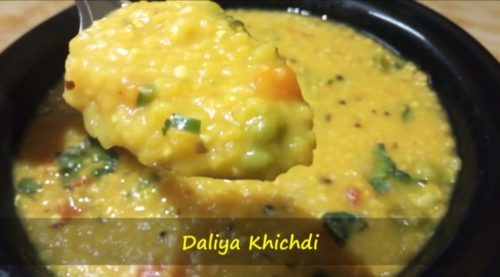 Recipe Name
How to make dalia for weight loss - khichdi recipe
Author Name
Published On
Preparation Time
Cook Time
Total Time
Average Rating





Based on 11 Review(s)