Here is the list of 5 best veg Indian breakfasts for weight loss recipes. When on a weight loss diet, it is difficult to figure out what are some yummy and healthy options available.
So, I thought to share with you some of my favorite Indian recipes for breakfast. You can also eat these recipes in your evening snacks as per your diet plan.
It is always good to start your day with a protein rich refreshing breakfast to kick start your day. It should be yummy, in your calorie budget and at the same time healthy.
5 Indian breakfasts for weight loss
Below is the list of some of the best Indian breakfast recipes for weight loss: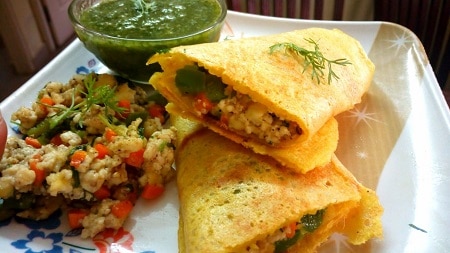 1. Paneer stuffed moong dal chilla breakfast (Get the recipe)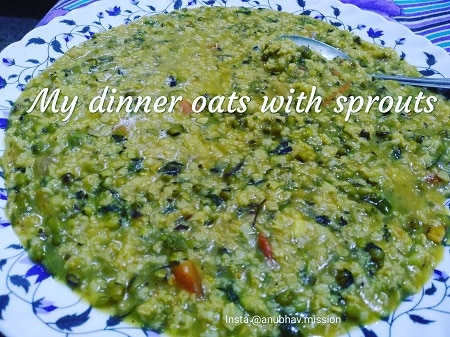 2. Oats khichdi: Indian weight loss breakfast (Get the recipe)
3. Black chana chaat salad Indian breakfast(Get the recipe)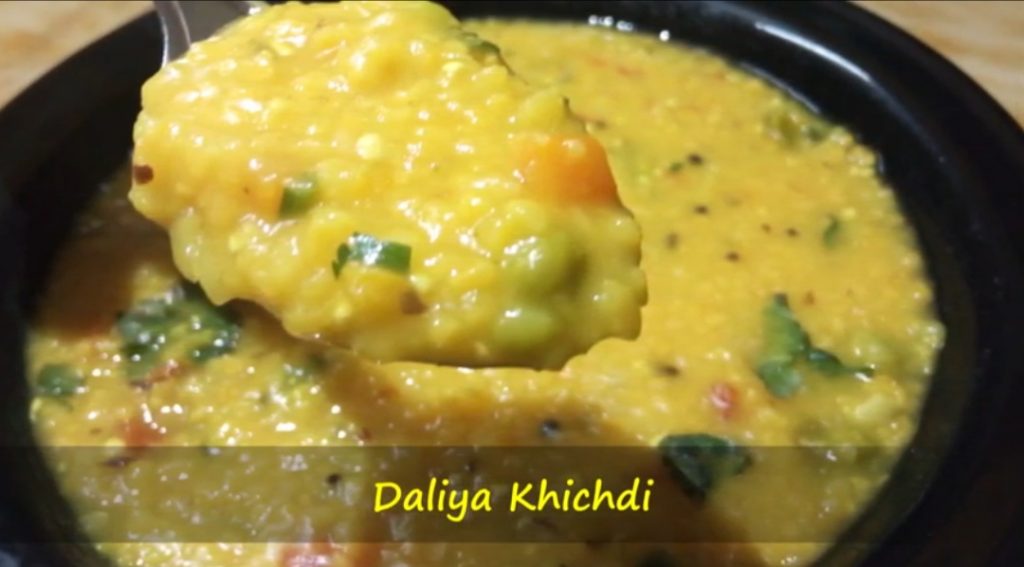 4. Corn dalia khichdi breakfast (Get the recipe)
5. Palak paneer keto Indian breakfast, lunch & dinner (Get the recipe)
Another Indian Breakfast for weight loss: Upma Recipe
Find the preparation method and ingredients required to prepare upma for weight loss.
Ingredients:
Semolina (suji) – 1 cup
Chopped carrot – 1 tbsp
Chopped french beans – 1 tbsp
Chopped tomato – 1 medium size
Chopped capsicum – 1 tbsp
Green peas – 1tbsp
Lemon juice – 1 tsp
Split begal gram – 2 tsps
Split black gram – 1 tsp
Red mustard seeds – 1 tsp
Grated ginger – 1 inch
Chopped green chilli – 2
Curry leaves – 8 to 10
Broken cashew nuts – 8 to 10
Refiened oil- 3 tbsps
Salt- As per taste
Water- 2.5 cups
Preparation method:
Heat a pan and add semolina (rava)
Roast it until nice roasting aroma comes. Do not let its colour change. Now take it out on a plate.
In the same pan, add oil and let it heat.
Add cashew nuts until it turns light brown. Then take it out.
In the same pan, add mustard seeds and let it splutter. Add split Bengal gram, split black gram, curry leaves, green chilies, and ginger. Fry them for a few seconds,
Add all chopped veggies one by one. Fry them for two minutes.
Now add 2.5 cups of water. (For 1 cup semolina add 2.5 cups of water).
Cover the pan and let it boil. Remove the cover and slowly add roasted semolina. Stir semolina while adding and keep mixing well.
Add salt and mix well. Cover the pan and let it cook for another 4 to 5 minutes on low flame until all water evaporates.
After 4 to 5 minutes, open the pan and stir it.
Add lemon juice and fried cashew nuts, mix it well.
Switch off the flame. Your tasty yummy vegetable upma is ready.
Vegetable Upma complete recipe in the video
Veggies upma recipe for video learners.
Preparation time:
Servings: 2 servings.
Preparation time: 10 Minutes
Cook Time: 15 Minutes
Total Time: 25 Minutes
Nutrition Value: Per 100 gram
Protein: 3.1 g
Carbs: 19.4 g
Fats: 0.7 g
Fiber: 1.9 g
Total calories (100 gram): 96 cal
Please comment below if you liked these "Indian breakfast for weight loss" recipes shared in this article.
FAQ:
What Indian breakfast is best for weight loss?
Any breakfast that is healthy and falls in your calorie budget is the best. You can have a variety of healthy breakfast like Moong dal chilla, upma, paneer stuffed chilla, oats meal, etc.
What is the best thing to eat for breakfast to lose weight?
A breakfast that is high in protein and has a perfect balance of other important nutrients is regarded as the best morning breakfast. Example – oats meal, brown rice idli, etc
How can I lose weight with Indian food?
Indian food is actually best to lose weight as they are prepared with a variety of healthy masalas like turmeric. In India, veggies are preferred more as compared to other food items. And, vegetables are low in calories and are best for weight loss.
What should I eat for breakfast in India?
You can eat a variety of healthy breakfast recipes. In north India, people prefer eating rotis and curry. In south India, people prefer eating dishes like upma, idli, etc
Summary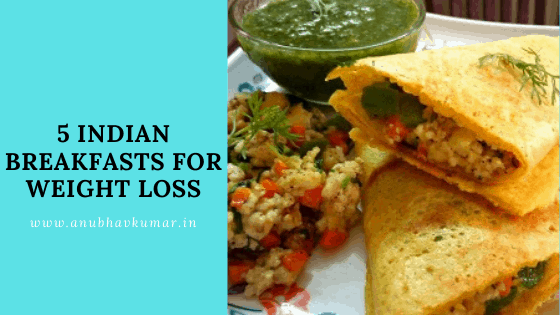 Recipe Name
Indian breakfasts for weight loss: 5 Vegetarian Recipes
Author Name
Published On
Preparation Time
Cook Time
Total Time
Average Rating





Based on 1 Review(s)