Are you looking for some healthy Indian snacks for weight loss? Let me share some great weight loss-friendly and healthy Indian snack recipes in this article.
Towards the end, I will share my favorite Indian healthy snack recipe called "Semolina Noodles" with you.
These healthy Indian snacks are yummy and at the same time healthy and weight loss friendly.
You can check the details of the recipes listed below by clicking the button. I have shared the details of recipes like preparation methods, nutritional values, and some tips there.
So, do not forget to check these healthy Indian recipes and stay fit.
List of healthy Indian snacks for weight loss: Breakfast and evening snacks
Moonglet chilla is one of the best Indian healthy snacks. The recipe is made of Split green gram (Moong) and has a lot of veggies which makes it high in protein and fiber.
It is also called veg omelet because it tastes like an omelet but it is a 100% vegetarian recipe. If you are on a weight loss diet, you must add this recipe to your diet plan.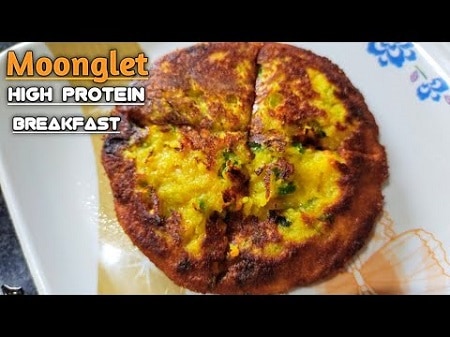 Poha is a widely prepared recipe in India and is a very popular food particularly in Maharastra and Madhya Pradesh.
To make it weight loss friendly, I have added a lot of veggies to it. Poha is also a great choice among fitness freaks and people love adding it to their diet plan.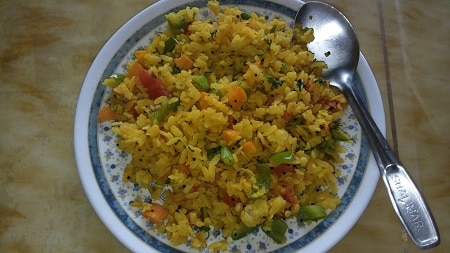 Oats in themselves are very healthy and again a popular choice for people who are on their weight loss journey.
You can prepare a lot of different recipes with oats, like oats khichdi, oats pudding, oats salad, etc.
But the recipe I am going to share is called oats poha which is a tasty and healthy Indian snack at the same time. You can find the recipe link below.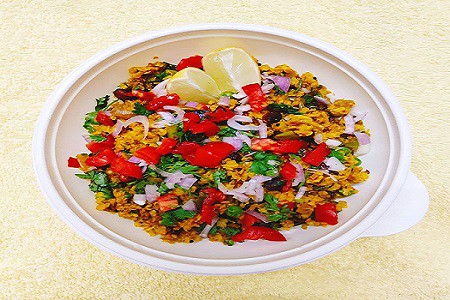 Moong dal chilla is made of moong and in stuffing, I have used paneer. As we know, moong and paneer are protein-rich which makes this recipe a perfect fit as a healthy Indian snack.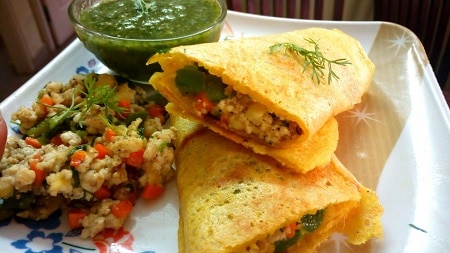 Black gram or Kala chana is known for its high protein content. The chana chaat recipe, therefore, is a protein-rich healthy Indian snack for weight loss and muscle gain.
The tangy taste of the recipe makes it yummy to eat and have fun with your diet journey.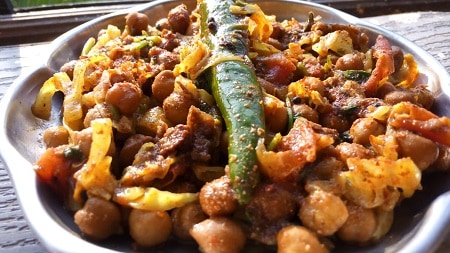 Now, let's get started with a healthy homemade noodles/pasta snacks recipe for weight loss.
You might be wondering how come noodles or pasta could be weight loss friendly.
Let me tell you, the noodles in the recipe are made of semolina (Suji/Rawa) and not refined wheat flour (maida).
Actually, it is neither noodles nor pasta but a mix of both. And on top of that, you do not need to purchase noodles/pasta from outside. You can prepare it at your home.
Healthy Indian snack for the evening: Homemade semolina noodles recipe
List of ingredients:
Semolina (suji, rawa): 1 cup
Capsicum: 1 tbsp (chopped)
Carrot: 1tbsp (grated)
Green chili: 1 (split)
Tomato: 1 tbsp (chopped)
Turmeric: 1/3 tsp
Red chili: 1/3 tsp
Ginger: 1/2 tsp (grated)
Baking soda: 1/4 tsp
Oil: 1 tbsp
Salt: As required
Water: As required
Dry flour: For dusting
Tomato sauce: 1tbsp (Optional)
Green chili sauce: 1tbsp (Optional)
Preparation method:
In a mixing bowl add semolina and baking soda. Mix well.
Slowly add water and kneed it into a soft dough
Add a few drops of oil and mix well
Cover the dough and leave it for 5 minutes
After 5 minutes, open the container and mix the dough
Take a small portion from the dough
Roll it on your palm, flatten it and dust it into the dry flour
With the help of a rolling pin roll it out into a thin roti
Now with the help of a knife cut it into thin stripes
In a pan add water, add 1 tsp of oil and salt
Let the water boil
In the boiling water add all the stripes
Let it boil for 2 minutes on a medium flame
After 2 minutes, take all the stripes out of the water
Heat a pan, add oil and let it heat
Add grated ginger and stir it
And then add capsicum and stir it properly
Now, add carrot, tomato, and green chili. Stir everything well
Add salt, red chili powder, and turmeric powder. Mix all the ingredients well
Let all veggies cook well till they soften
Now add boiled stripes into the veggies and mix properly with a light hand
With a light hand, mix well
Now add tomato and green chili sauce (This is optional) and mix well
Your healthy Indian semolina noodles snack is ready that you can enjoy as an evening snack or morning breakfast.
Healthy Semolina noodles snack video recipe
Below is the video recipe of the Semolina noodles/pasta recipe.
If you have any questions do let me know on Instagram. Here is my Instagram account: @anubhav.mission