Are you looking for a healthy and weight loss friendly drink (Beetroot juice for weight loss) to add to your diet?
There could not be a better option than a glass of fresh tangy mint-flavored beetroot juice mix with the goodness of apple and carrot.
About the beetroot juice recipe
Beetroot juice is called a miracle juice/drink, a perfect name for the juice for weight loss. Another name for it is ABC drink popularly used name by diet and fitness followers. Here ABC stands for APPLE, BEETROOT, and CARROT, the three important ingredients to prepare this miracle juice recipe to lose weight.
I am thankful to Kitchen Gyaan, a YouTuber, for sharing her recipe with me. I love all her weight loss friendly recipes and try to share among my readers through this website.
So, here comes the recipe, beetroot juice for weight loss.
Must read this:
Beetroot juice for weight loss: Recipe
Below is the detailed preparation method, ingredient list, and recipe video to prepare this beetroot juice recipe.
I have also included the nutrition value of this juice and serving details below in the article. So, let's get started.
Beetroot juice for weight loss:
Ingredients:
Apple: 1
Beetroot: 1/2
Carrot: 2
Lemon juice: few drops
Mint leaves (pudina patta): 8-10 leaves
Ginger: less than 1/2 inch
Honey: 2-3 tsp
Water: 1 glass
Preparation method: Beetroot juice recipe
Peel the veggies and apple, and then chop them into small pieces
Take a grinder jar and put all the chopped veggies and apple into it.
Add ginger, mint leaves, and lemon juice into the jar.
Add honey and a glass of water.
Grind them into a fine puree.
Once the puree is ready, strain it out. You can use a spoon to press the puree to properly strain the juice out of puree.
When the juice is strained out, stir it well with the help of a spoon.
Take a serving glass and pour the juice into it. Your fresh, healthy, and weight loss friendly juice is ready to yum on.
How to make beetroot juice for weight loss: Video Recipe
Below is the recipe video of the weight loss friendly beetroot miracle juice.ABC Juice Recipe (for glowing skin & weight loss) | Miracle Drink l Detox Drink l ABC Smoothie
Find more recipes for weight loss
Nutrition value: 81 calories per 250 ml
Here is the approx nutrition value per 250 ml of beetroot, carrot and apple juice
Protein: 1.7 gram
Fat: 0.4 gram
Carbs: 17.8 gram
Fiber: 6.6 gram
Total Calories: 81 calories
Preparation time: Miracle juice
Servings: 2 min
Preparation time: 10 min
Cook Time: 5 min
Total Time: 15 min
Facts about beetroot (juice): Weight loss and health benefits
The beetroots or beets contain are high in vitamins and contains almost all the vitamins in varying portion.
They are also rich in minerals and other nutrients that can be added easily to your diet.
There are many health benefits of beets and they also promote weight loss.
100 grams of cooked beet contains 44 calories with 1.7 grams of fat, 2 grams of fiber, 0.2 grams of fat, and 1.7 grams of protein. They are low in calories and thus can be eaten in volume and good for your weight loss diet.
Also, beetroots contain water, fiber, moderate protein, and are low in calories which makes it a perfect choice for those who want to maintain or lose weight.
As we know, fiber is good for controlling appetite and beet have fiber content in it, making it a weight loss-friendly diet food.
If you want to know more about the beet and it's a health benefit, do read this article by Healthline.
Conclusion
I hope you loved this beetroot juice recipe for weight loss and gonna try it to get it's health benefits.
When you prepare this beetroot juice recipe, do not throw the strained out material but reuse it in other recipes or just eat as it is. This is how you can get the full benefit of this beetroot juice for weight loss.
Summary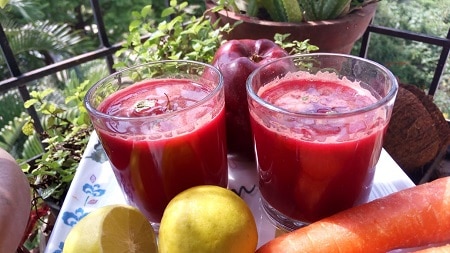 Recipe Name
BEETROOT juice for weight loss. Weight loss drinks
Author Name
Published On
Preparation Time
Cook Time
Total Time
Average Rating





Based on 8 Review(s)