Today, in this post I am going to share with you the Traya review and my experience with their products. For those who do not know about Traya and its products, let me introduce them.
What is Traya?
Traya is a hair loss solution product and a service-based company that provides hair fall and growth remedies. They have a team of medical experts to guide you with their hair programs.
You will better know them as you proceed with my story.
Being a fitness guy, I know how important is nutrition and workouts for maintaining a healthy weight. The same is true with hair as it also requires appropriate nutrition and cares to be healthy.
When I was obese I was on the wrong diet and had a poor lifestyle. Improper nutrition and poor lifestyle had invited many health-related issues like fatty liver, kidney stones, obesity, hair fall, and whatnot.
My obesity has increased so much that I was having a hard time even going out for a walk due to knee pain.
I decided to change my lifestyle and regain my lost hopes. With time I was able to shed down my weight successfully. But I was helpless and clueless about my hair fall.
My hair fall started happening way long back when I was in college in 2012. And, post 10 years I have lost a lot of hair. I tried many home remedies to reduce my hair fall but was unable to find any perfect solution.
I was looking for a perfect solution to control my hair fall. I refrained from using any random products marketed online in the name of hair fall.
And when I have seen Traya and their customer reviews I thought to use their product once. And later when I figured out that they have a team of professionals to assist you with their products and hair fall, I was a little more convinced.
They have an online procedure where they will ask you to fill up a form asking some questions related to your hair for initial screening.
Once you will fill out the form, they will prescribe a set of their hair fall products. You can then order their products online and the same will be delivered to your home.
You can then join their medical expert on WhatsApp to assist you with your journey.
Traya Review: My hair fall control in one month
As mentioned, I filled up an online form for my initial screening and ordered Traya products as prescribed by the team.
A week later, I received my Traya products and started using them. For any queries related to their products and usage, I messaged them on WhatsApp.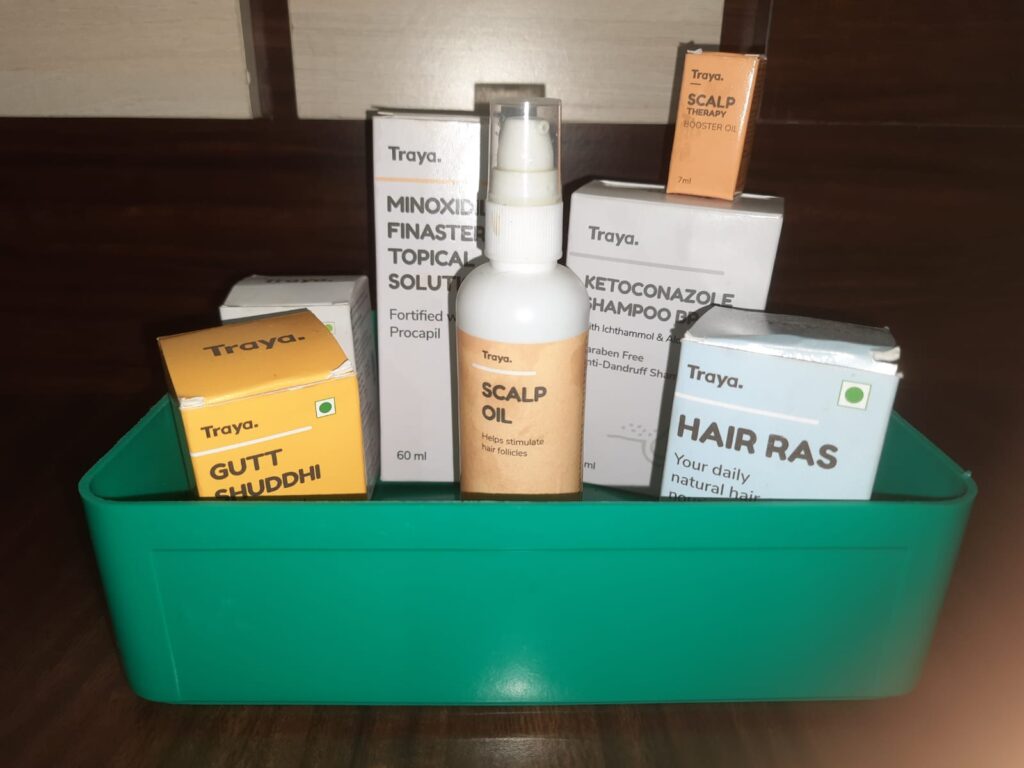 You will also get a prescription letter with your Traya products where everything related to product dosage and timings will be mentioned.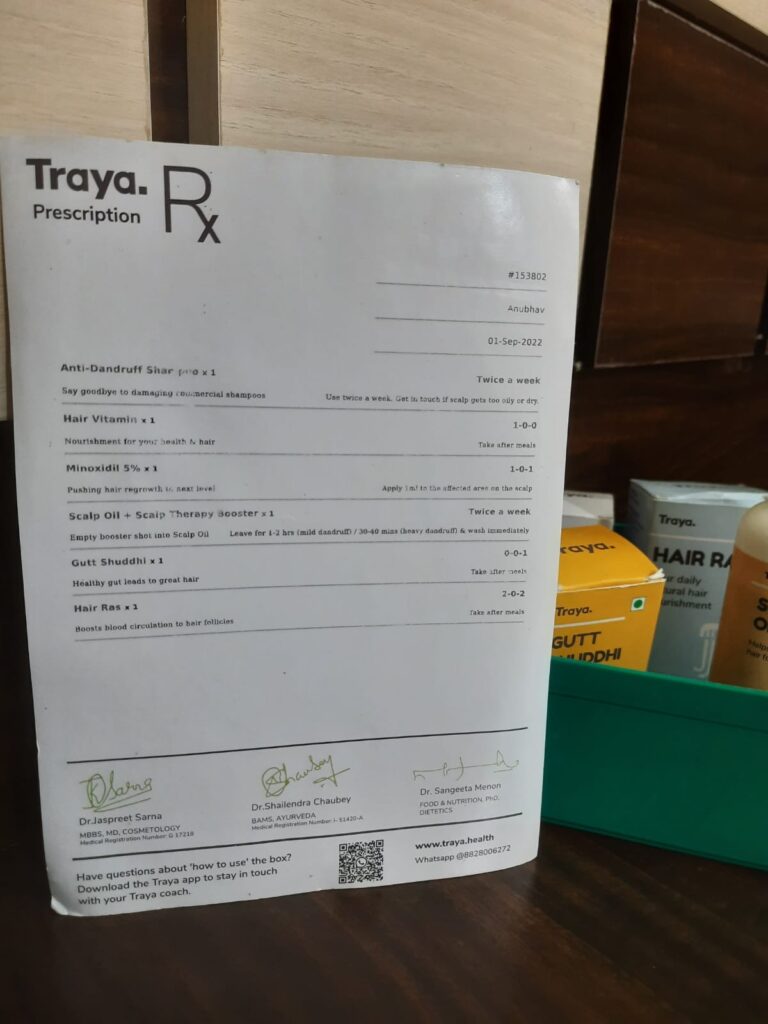 So as per the prescription, I started using their products. After a week of usage, I saw a drop in my hair fall. I got some confidence and started using it further.
For faster results, you need to be very particular about medicines intake and take them on a regular basis as per the prescription.
The best thing about Traya is that its products also include ayurvedic medicines for hair nutrition. And, this is what intrigued me to use their products in the first place.
Another good thing about them is that they have provided shampoo in their products.
I found their shampoo much better than other shampoos available in the market.
Vitamins are very important, not just for your body but also for your hair. And, you will get hair vitamins for healthy hair.
Not just vitamins, a healthy gut is also very crucial for healthy hair and you will get the same in your products.
My 1-month journey with Traya products
I have been using Traya for almost 1 month now and my hair fall has reduced up to 50%. The way I was losing my hair earlier, I was very fearful and was losing confidence. But now, I am happy to see a reduction in my hair fall.
I am hoping to see more improvement in my hair fall with time. If I see further improvements in my hair fall I will share it here.
My hair fall has reduced but I am also looking to regrow my lost hair. But it is a little early to write about my hair regrowth experience as it takes months to see any positive results.
Till now, I have not seen any hair growth results but as I said it may take months, so can not come to any conclusion so early. I have been using Traya for just 1 month so can not comment on my hair growth as of now.
But in one month I have seen a reduction in my hair fall and shared the same with you all. I hope you got some insights from my 1-month journey with Traya products. Let me know if you have any questions in the comment.
Disclaimer: This is my personal experience with the hair solution products mentioned on this page and is just for your information. The results may vary for individuals based on different body and medical factors. Please consult an authorized medical expert before using the hair product and suggestions mentioned on this page.